A double stroller is a must with our 2 year old and newborn. When I first started looking at double strollers I knew I wanted one that allowed BOTH seats to recline independently. My son still takes naps when we are out and it is only fair that he should be able to lay down. Other than that, I really didn't know what features to look for.
Zooper
introduced me to their
2009 Tango double stroller
. I was immediately impressed after visiting their website. Not only is it an adorable stroller, each seat independently reclines in 4 different positions including laying all the way back. It also has several "extras" that I didn't even think to look for in a stroller.
Zooper sent us their
2009 Tango double stroller
in the red waves fabric. It was my favorite color, but I was worried about my son making a complete mess on it. They quickly assured me that the seats are washable and would clean easily.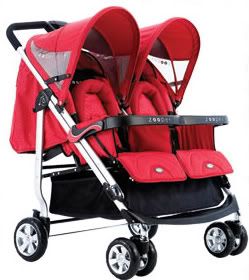 This is how it arrived at our house. I was actually surprised with how small the box was considering the size of the stroller and all of the accessories that come with it.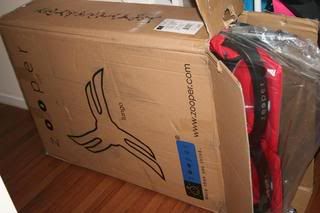 Here are all the parts and accessories that make up the Zooper Tango Stroller. It LOOKS like a lot, but it really only took about 10-15 minutes from the time my husband opened the box until the stroller was completely assembled. The frame is made of high-strength aluminum, extra strong die cast front wheel housings, and extra strong die cast front latch frame lock.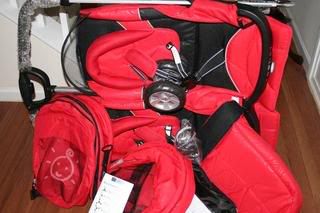 Here are the accessories that were included in that pile. A sleeping bag for one side, sun shade, Rain Cover, and Cup Holder are all included. I would really like it if there were a second cup holder. There is usually someone with me and it would be nice to put both of our cups in there.
Here are the measurements of the stroller. I suggest measuring your car to make sure it fits well. I have a 2008 Ford Escape and it takes up a TON of room in the back. I know double strollers are going to be large, but between two car seats and the double stroller taking up most of the back, I don't have a lot of room for anything else. The stroller is not very wide in my car and and I can put things behind it, but it sits up very tall and blocks a little bit of my view out the back. For a double stroller, the Tango is amazingly light. It is only 29 pounds which is less than what my son weighs. It is also super easy to put up or lay flat. I was surprised that I could set it up in less time than it takes me to do my single stroller.
I think the feature that I'm most amazed with is everything that the canopy on each side can do. In this picture the left side is up and the right side is completely covering the seat. Not only can the canopies go all the way down to fully cover your sleeping child, they also have a sun visor, viewing window, and storage pocket. Being able to fully cover your child from the sun makes all the difference. There have been many times when the sun or wind woke Evan up while he was napping in his stroller. The large storage pockets are perfect for keeping sippy cups, pacifiers, and burp cloths at arms length. You could also put your wallet, diapers, or anything else you could think of in them.
Evan was all about the wheels. We put this together right before his bed time and he just wanted to play with the wheels. There is front and rear wheel suspension and quick release front wheels with one touch auto swivel lock. Each seat can hold up to 45 pounds each.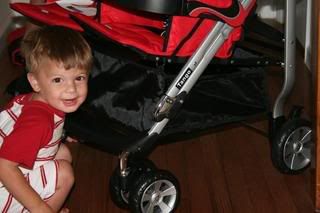 In this picture you can see that the Tango is compatible with several infant car seats on one side. You can not place two infant seats in there at the same time, but the seats do recline all the way and have headrests so that infants can be placed directly in the stroller seat. If you look closely at where the seat belt would hold in the car seat in this picture, you can see the safety strap that keeps the infant seat secure while in the Tango Stroller.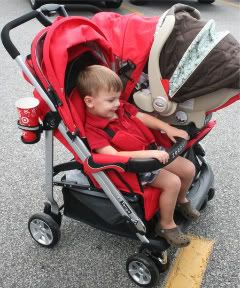 Even though we've had the stroller for over a month, we had to wait until Isabella was born to put it to the test. I used it a few times last week and to be honest, I was worried about fitting in many stores. It is 30" wide and designed to fit through most standard doors. We took it in Bed Bath And Beyond first. I could easily stroll my babies in the center aisles, but had to be careful when straying from the main path. The shelves were spaced apart enough where I could get through, but they had piles of products displayed on the floors down almost every aisle. It didn't take me long to get frustrated because I would go down a row and have to back up to get out. If the store didn't pile things on the floor, we would have been fine.
We went into Target next. There was plenty of room for us there. I could even take the stroller through most of the clothes displays which I didn't think I would be able to do. I also took the stroller to the mall. I never had a problem fitting in any doors, but I did have some problems guiding through displays in some stores. There were many stores that I had no problem at all, but there were a few that had their racks too close together. I know that these stores want to pack as much merchandise in as they can, but it's hard to look at them if you can't get your children in. I got many compliments on our new stroller while we were out. There were many parents with two young children that either didn't have a double stroller, or if they did, it didn't have the features that they wanted/needed.
The storage basket is HUGE which allows for you to shop for a long time without having to run to the car. My only problem is that a bar is in the way and you can't fit any wide items in there. I went to put my diaper bag in the storage basket and I couldn't get it to squeeze between that bar and the edge of the basket. I had the diaper pretty full because I was out with two kids, but I was disappointed that it didn't fit. When I got home, I filled another diaper bag that doesn't get very wide and I was able to fit it in the basket with no problem. you can also see those large storage bags on the back of the canopies that I was telling you about. If I needed to, I could always take some of the items out of my diaper bag and place them there so that they would be easily accessible.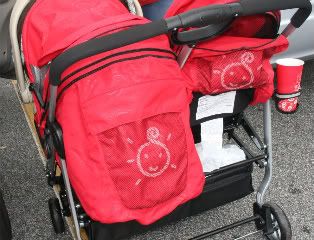 I really do love this stroller and there are several other features that make it even more amazing. You can visit there website and check out everything that the
Zooper Tango Double Stroller
has to offer!
Buy It!
There are
several stores and online sites
where you can purchase the Zooper Tango for $499.99.
Win It!!!
Zooper is giving one of my readers the
2009 Tango double stroller
in the red waves fabric!
To enter, visit
Zooper
and tell me ANOTHER product that you think they should start carrying.
This is required and must be done before the extra entries count!EXTRA ENTRIES!
You can do any of these things for an extra entry. Make sure to leave a separate comment for EACH thing you do.
1- For TWO extra entries, Subscribe to my blog via email.
2- For TWO extra entries, blog about this giveaway and link it back to this post and
Zooper
.
3- Follow me on
twitter
AND Tweet about this giveaway. You can Tweet once a day for an extra entry every day! You can copy and paste:
Baby Bash Giveaway #32- $500 Zooper Tango Double Stroller @twoofakind http://bit.ly/cH4O7 Open to US And Canada
4- Follow my blog via google friend OR in a reader.
5- For FIVE extra entries, purchase any product from
Zooper
before the end of this giveaway.
Contest ends at 11:59pm EST on September 14th when I will draw a winner at random. PLEASE leave your email address if it is not visible on your profile. I will notify the winner and they will have 36 hours to respond!
Open to US And Canada!