One of my favorite things about Evan getting older is being able to witness his imagination. It is amazing how young children can start having these elaborate imaginations and too often they are wasted because they don't use the right tools to express them. Children are watching more and more television and not utilizing their skills.
CitiBlocs
is dedicated to help children capture their imaginations. CitiBlocs are a unique wooden construction toy that can be used to build just about anything. They are made from Grade A New Zealand Radiata Pine and each block is exactly the same size. Simply use your imagination and stack to make anything you can think of! CitiBlocs just won an IPMA 2009 Outstanding Products Award and an Oppenheim Toy Portfolio Gold Seal Award.
CitiBlocs sent us their
54 Piece Color Wooden Building Bloc Set
for Evan.
Even though they're meant for children 3 years and older, he has had a blast with these blocks. He is sitting and playing with the blocks right now. He isn't coordinated enough to use them like they're intended, but I have observed him using so many different skills with these blocks.
The blocks are red and blue and Evan kept sorting them out according to color. Over the past few weeks he has gotten great at stacking them up and I've seen his coordination improve. He usually puts the red ones going one way and the blue ones going the other. He may not be building cars or animals yet, but he can build his own version of a house.
The best things about these blocks is that he can continue to grow with them. He will continue to develop his fine motor skills as he works with this set. He'll be able to use his imagination and build all sorts of amazing things for years to come. Reasoning, problem solving, cause and effect, engineering and improvising are all part of the building block experience. Here is an example of what can be built with these blocks.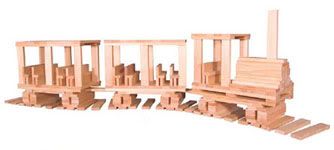 CitiBlocs has several other sets that are available so that we can continue to grow our collection. These blocks give us something else that we can do as a family. Not only will we be having fun, but we'll also be helping Evan improve many valuable skills.
Buy It!
You can purchase CitiBlocs sets starting at $13.49 at
GlammaTOYS
.
Wit It!!
CitiBlocs is giving one of my readers the
54 Piece Color Wooden Building Bloc Set
OR the
52 Piece Wooden Building Bloc Set
To enter, visit
CitiBlocs
and tell me something that you learned or found AND tell me which of the 2 sets you would choose.
This is required and must be done before the extra entries count!EXTRA ENTRIES!
You can do any of these things for an extra entry. Make sure to leave a separate comment for EACH thing you do.
1- Subscribe to my blog via email OR follow my blog via google friend OR follow in a reader. Leave a separate comment for each that you do.
2- For TWO extra entries, blog about this giveaway and link it back to this post and
CitiBlocs
.
3- Follow me on
twitter
AND Tweet about this giveaway.
You can Tweet once a day for an extra entry every day!
You can copy and paste:
Win a set of CitiBlocs @twoofakind http://bit.ly/1p9vor
4- Add the Green Two Of A Kind, Working On A Full House Button to your blog.
5- Become a fan of Two Of A Kind... on
facebook
.
6- For FIVE extra entries, purchase any product from
CitiBlocs
before the end of this giveaway.
7- Enter the
MJM Personalized Book Giveaway
.
Contest ends at 11:59pm EST on September 14th when I will draw a winner at random. PLEASE leave your email address if it is not visible on your profile. I will notify the winner and they will have 36 hours to respond!
Open to US