Have you ever been present during a medical emergency where you needed to know what to do? Fortunately, I've never been in that situation, but I want to be prepared. I've taken CPR and first aid, but I can't say that I wouldn't freeze when faced with an emergency. I also want any babysitters to be prepared if something happens while my children are in their hands.
SafetyMate
is a product that I've come to rely on if something were to happen. It was created by David Feder after his newborn baby girl stopped breathing. He froze and felt helpless. Fortunately, they were in a hospital and everything was fine. In that moment, David knew that he needed to create a device to help prepare himself and others for any medical emergency.
SafetyMate sent us one of their
Talking First Aid Devices
to keep our family safe.
The SafetyMate includes eight first aid categories:
CPR, Unconscious
Choking, Breathing
Allergic Reaction
Bleeding
Burns
Falls, Bone Injury
Poison, Bites, Stings
Seizures
Those eight buttons lead to 30+ first aid issues. It is amazingly easy to use and talks you through what to do in the event of several different emergencies. As soon as you open the cover, it tells you to call 911 if this is an emergency and then tells you how to use the SafetyMate.
First, you choose which emergency you need help with. I chose CPR for the picture.
It will ask a question and you can hit YES or NO. Depending on your answers, it tells you what to do next. As you can see in the picture, you can pause the instructions, resume when ready, or even repeat the instructions.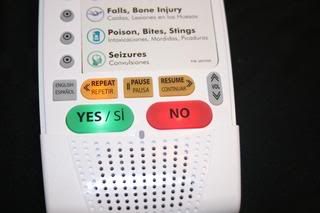 I think the SafetyMate is the best idea ever! There are several written first aid manuals that you can keep on hand, but in the event of an emergency you're not going to have time to flip through a book. With the SafetyMate, you simply flip it open and it talks you through what to do. You can even hit repeat if you missed any little detail.
Infant, child, and adult emergencies are all covered with the SafetMate. It is compact and light-weight to fit well in any small space such as a diaper bag or briefcase. I was impressed that they even thought to make the SafetyMate water resistant for outdoor settings. This would provide peace of mind for any family!
Buy It!
You'll need to contact their
customer service
to purchase the SafetyMate. An optional recharging kit is available that includes a wall/desk mount charging cradle, an AC adaptor,(4) Ni-MH rechargeable batteries, and a vehicle charging cable.
Win It!
SafetyMate is giving one of my readers one of their Talking First Aid Devices.
To enter, visit
SafetyMate
and tell me something that you learned-either about the product itself or first aid in general(check out their
blog
for even more information).
This is required and must be done before the extra entries count!EXTRA ENTRIES!
You can do any of these things for an extra entry. Make sure to leave a separate comment for EACH thing you do.
1- For TWO extra entries, Subscribe to my blog via email.
2- For TWO extra entries, blog about this giveaway. Be sure to link back to this post and
SafetyMate
3- Follow
@twoofakind
on twitter AND tweet about this giveaway!
You can tweet once a day for an extra entry every day!!
You can copy and paste:
Baby Bash Giveaway # 28 - SafetyMate for peace of mind @twoofakind http://bit.ly/tIdav open to US and Canada
4- Follow my blog publicly.
5- Place my green Two Of A Kind, Working On A full House button on your blog.
6- For FIVE extra entries, purchase a
SafetyMate
before the end of this giveaway.
Contest ends at 11:59pm EST on August 21st when I will draw a winner at random. PLEASE leave your email address if it is not visible on your profile. I will notify the winner via email and they will have 36 hours to respond!
Open to US AND Canada!