There are tons of Mosquitoes where we live and I am always eager to try any product that claims it keeps them away. No one likes to get into mosquitoes and then itch for days later. I was recently introduced to the
OFF! PowerPad Outdoor Lamp
that worked like a charm. The only problem is that you'd have to carry that lamp around with you if you went from one side of the yard to another.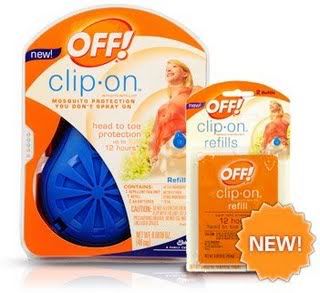 The
OFF! Clip On Mosquito Repellent
is the solution to that problem. You simply clip it on to your belt or pants and you will be covered from head to toe. If you move a long distance, just give it a few moments to repel any Mosquitoes and you have complete protection again. You never have to wonder if it is ready for a refill because there is a green use-up indicator that goes away when it is time to change it out. Each refill lasts up to 12 hours to give you maximum protection.
We were sent the OFF! Clip On Mosquito Repellent to try out.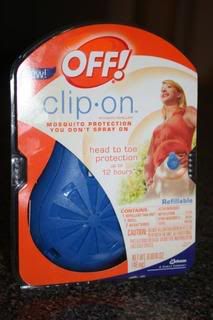 To use, remove the mosquito repellent refill from its package and insert it into the unit. Once it is in correctly, turn the ON switch to + until the fan starts. When you are done with it for the day, turn it to O and store it in a cool, dry space.
My husband and I have both put the unit to the test. I took it outside and sat it beside me on the table while I read a book in the hammock. Usually I have to go back inside because I get eat up by mosquitoes, but not when I use the OFF! Clip On Mosquito Repellent! I didn't get one bite. Andrew used it while working on his boat and said he didn't have any bites either. We have become huge believers in OFF! products at our house.
This post was written for Family Review Network as part of a program by SC Johnson, who also supplied the product for review.