We are big coffee drinkers at our house. For the past few months I've limited my intake of coffee to one cup a day because I was pregnant and am now nursing. However, my husband still drinks quite a few cups every day. We have completely different taste in coffee and it is difficult for us to decide on one kind to make in the mornings.
Keurig
allows us to make two separate cups of coffee so we don't have to argue about what kind we're going to brew. The word Keurig is derived from the Dutch word for excellence and that what this company strives to bring their customers. They allow you to make a fresh cup of gourmet coffee or tea, and hot cocoa Keurig Brewed® in less than a minute with no set-up. Either at home or in the office, using their large variety of K-cups allows everyone to enjoy their favorite kind.
Keurig sent us the
Platinum Brewing System
and 4 boxes of K-kups.
The Platinum Brewing System is Keurig's best brewing system for homes. It offers five different cup size options and the 60 oz. removable water reservoir holds up to ten cups before having to refill. The Platinum offers many amazing features including Auto On/Off, Digital Clock, Adjustable Temperature Control and the "Set Your Favorite Cup Size" option. It has a sleek, modern look with the blue lit water reservoir and blue lit LCD display.
The coffee maker includes this variety pack of K-cups so you can sample the different types. In addition to our 4 large boxes of K-cups, we also got to try the ones in this variety pack.
The Platinum Brewing System couldn't be any easier to use. When you're ready to brew a cup of coffee, tea, or hot chocolate, simply turn the coffee maker on using the switch in the back.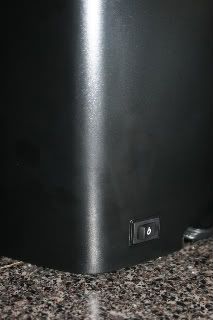 The LCD screen will tell you it is not ready and you will hear it quietly heating up.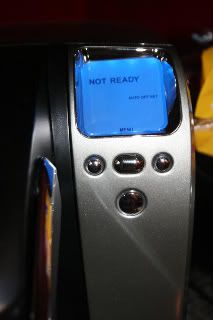 Select which K-cup that you would like and put it in the top.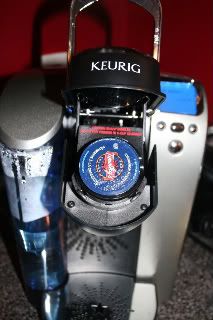 This sharp needle will puncture the cup when closed so that the water can flow through the K-cup.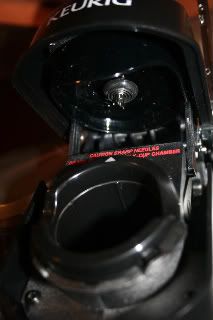 The LCD screen will tell you when it is ready. Choose which size coffee cup you are using and hit brew.
The coffee will pour into your cup within seconds. You will have a steaming cup of coffee, tea, or hot chocolate in less than a minute.
Eventually, the 60 oz. removable water reservoir will run low on water. As you can see in this picture, the LCD screen will let you know when it is time to add water.
We have thoroughly enjoyed our
Keurig Platinum Brewing System
. We don't have the same argument every morning about what type of coffee to make. Now we each choose which K-cup we want and we have our different cups in just minutes. I also love that if I ever want a second cup of coffee, I can just choose another K-cup and have a different type than what I just had.
The Platinum Brewing System would be a fantastic addition to any home. It is really easy to use and I love that I don't have to fill the brewer with water every morning. I can't wait to try out all the different kinds of K-cups. Right now my two favorites are the Timothy's Cinnamon Pastry and Timothy's German Chocolate Cake. I am surprised because out of the samples that we've tried, my husband's favorite is also the German Chocolate Cake.
They even have a
few recipes
on their website that make us feel like we work at a coffee shop. We have enjoyed making our own gourmet coffee at home at just a fraction of the cost.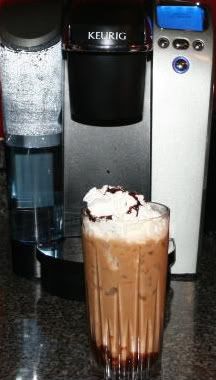 Buy It!
You can purchase the
Platinum Brewing System
for $169.95.
Win It!!!
Keurig is giving one of my readers a Platinum Brewing System AND 4 boxes of K-cups!
To enter, visit
Keurig
and tell me which FOUR K-cups you'd like to try.
This is required and must be done before the extra entries count!EXTRA ENTRIES!
You can do any of these things for an extra entry. Make sure to leave a separate comment for EACH thing you do.
1- Subscribe to my blog via email OR follow my blog via google friend OR follow in a reader. Leave a separate comment for each that you do.
2- For TWO extra entries, blog about this giveaway and link it back to this post and
Keurig
3- Follow me on
twitter
AND Tweet about this giveaway.
You can Tweet once a day for an extra entry every day!
You can copy and paste:
WIN a Keurig Platinum Brewing System AND 4 boxes of K-cups @twoofakind http://bit.ly/QF7kq
4- Become a fan of Two Of A Kind... on
Facebook
.
5- Add my green Two Of A Kind, Working On A Full House Button to your blog.
Contest ends at 11:59pm EST on September 28th when I will draw a winner at random. PLEASE leave your email address if it is not visible on your profile. I will notify the winner and they will have 36 hours to respond!
Open to US Only!