We just got back from the doctor and I thought I'd write a quick update post. I feel like a slacker but I just haven't had the time to post very much. Things are getting easier every day and the kids are even taking naps at the same time!
Evan was a wild man at the appointment and had to get one shot. We had to wake Isabella up to take her and she was a little hungry and fussed a little. Evan is 2 years and 2 weeks old today and his stats are 29lb 2oz and 36 1/2inches tall. Isabella is 2 weeks and 1 day old today and her stats are 8lbs 0oz and 21inches long. She's not quite back up to her birth weight yet so they want me to bring her back to weigh her again next week. She also has a clogged tear duct which I hate because she keeps having this yucky yellow goo in her left eye. Other than that, I have two perfect babies!
I also jumped on the scales at the doctor's office and am down another 7 pounds from when I weighed at Isabella's appointment last week! LOL-Breastfeeding is the best diet EVER! I'm less than 5 pounds away from my pre pregnancy weight but I'd like to be where I was before I got pregnant with Evan. I have 10-15 more pounds to go before I get to where I'll really be happy.
Isabella is still sleeping like a champ. She goes to bed around 10:30 and doesn't wake up to be fed until 4:30. She goes right back to sleep until 7:30 or so. She still sleeps a lot during the day and sleeps for about 3-4 hours when Evan takes his 2-3 hour nap after lunch. It's nice to have that free time-I really didn't think I'd get any breaks like that.
I've also been SLACK with these pictures! Isabella looks JUST like Evan did at this age-a little old man-well, little old woman in her case. LOL-It took Evan a few months to REALLY get cute so hopefully she'll get there soon!
I took this one last night of my mom, Evan, and Isabella.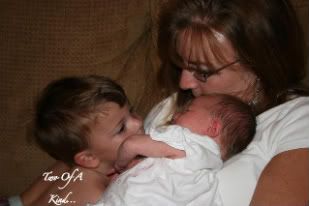 Here she is on my sister's lap. Have I mentioned that I LOVE dressing her all girly? Reviews and giveaway for these bows will be coming soon!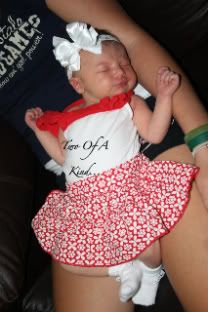 My daddy holding Isabella.
Just a random picture.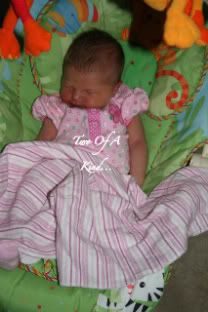 I promise I'll start having more posts with pictures.