Some of my favorite things to watch on TV are those cake decorating shows. Have you seen them? Two of my favorites are Ace Of Cakes and The Cake Boss. I wish I had HALF of the talent that these people have. I would love to be able to make my kids' birthday cakes and be that mom who brings the super cool cupcakes to school!
I was at our local craft/hobby store yesterday and saw where they will be having classes on cake making. They have a series of 4 different ones. I would have to start with the first one to learn the basics of how to use different tools and things like that. The others teach more advanced skills including using fondant and gum paste. Each class includes (4) 2 hour sessions. They say the class is normally $45 and they're doing it for $22. I'd also have to buy the supplies that I would need and I'm not sure how much that would be.
I think it would be worth it but I'm still debating on whether or not I should take it. Is it sad that I hate to leave my kids for 2 hours a week? Hubby is being so sweet and pushing me to do it because I never do anything for myself. He has soccer, hunting, and occasionally golf that he goes off and does and I am with the kids 24/7. I really want to do it, but I wish I had someone to do it with me. My mom has 2 kids that are still in school and it would be hard for her to get away on Thursday nights for 2 hours.
Have you ever taken any classes like this? Are you glad you did?
LOL, here are my skills...or lack of. I can decorate a cookie-a little-but that is as far as it goes. I've done footballs, soccer balls, hearts, and a cowboy boot but I would love to do them well. Here is my first football that I made. I'd love to be able to make one out of cake!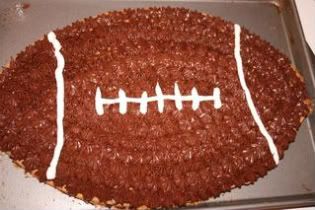 HAHA..and for a good laugh, this is a red velvet cake I made last month. I didn't let the cake cool enough before putting icing on it. It was just a random cake for us to eat and it may LOOK bad, but it was SOOOO good! We love when they're still warm.