After we became parents, toys took over house. Most of those toys require batteries and they go through them like crazy. I don't even know how much money we've spent replacing batteries. Last Christmas I even asked my aunts to just get me a ton of batteries because I knew he would be getting toys that would all need batteries.
Energizer
has several products that can help reduce the cost and waste that we're creating. You can choose from all of their different rechargeable battery devices to find what would fit in best with your lifestyle. They have charging systems that recharge batteries in just 15 minutes and others that can recharge several different types of batteries at once. If you have problems keeping your phone charged, they have a way to help you there too!
Energizer sent us their
Energi To Go Portable Cell Phone Charger
,
15 Minute Charger
,
the Family Charger
, and several batteries.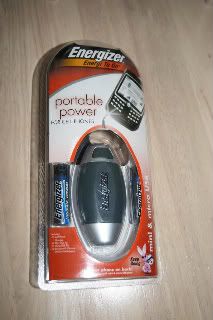 I got them right before we went to the beach and took the
Cell Phone Charger
with us. My phone is always going dead and I never seem to remember to bring a charger. This charger is extremely small so it can stay in my diaper bag for emergencies. It would also be great for people who work so they could keep it at their desk or in a briefcase so they can charge their phones on the go. Be sure to check which one you need for your phone. They come with a few different plugs for different phones. Simply choose which one you need and plug it into your phone.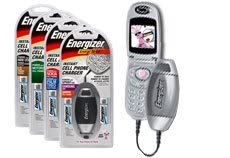 After about 2 hours, the phone will be fully charged. You can see where the batteries go in with this picture. I love having this in case of an emergency, but the batteries only last for one charging. You'll have to have rechargeable batteries with the Cell Phone Charger because you'll need to replace the batteries after every use.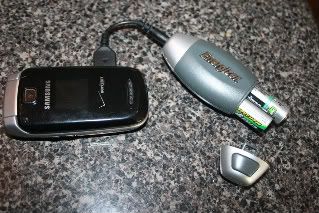 My favorite charging system is the Family Charger. I can charge several different types of batteries at one time. My son has a singing thing that he goes to sleep with and it goes through C batteries like crazy. I can charge those C batteries and AA batteries from other toys or for the Phone Charger at the same time!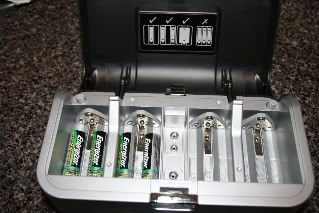 The outside shows how charged the batteries are. The picture of the battery will be completely colored in when the batteries are done charging. The batteries in several different toys usually go dead at once. This makes it so much easier just to pop them all into the charger and have them ready in no time.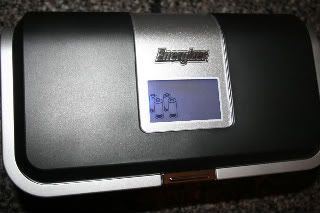 Sometimes you need batteries recharged quickly. Either the batteries in a favorite toy went dead, or you know you're going to be leaving the house in a few minutes and really need to have new batteries in the Portable Cell Phone Charger.You can use the
15 Minute Charger
either in the house or in the car to have recharged batteries within minutes.
The 15 Minute Charger comes with a car adapter and an AC adapter so you can recharge at any time. It can charge 1-4 AA or AAA batteries at one time and has a charge status indicator light to let you know when they are ready. It also comes with (2)AA and (2)AAA batteries.
With these products from Energizer, I can always be prepared. If your family goes through as many batteries as ours, you should definitely invest in a Charger. They even have a
tool on their website
to help you decide which Charger would be best for your family. I think EVERYONE needs the Portable Phone Charger. You never know when you'll be out and need your phone charged in the case of an emergency.
Buy It
You can purchase these products almost anywhere that you get batteries. I found the
Energizer 15 Minute Battery Charger
on Amazon for $33.58, the
Energizer Portable Phone Charger
for $19.99, and the
Family Charger
for $26.74. The batteries all range in price.