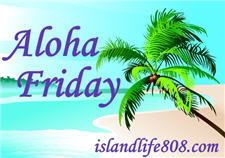 It's Aloha Friday over at
An Island Life
! Answer my question and make sure you post one on your blog! After that, go relax because today is Friday!!
My question for this week is:
Do you get manicures and/or pedicures?
I don't. I've had one pedicure and that was last summer. Someone gave me a gift card to go do it. I wasn't a fan b/c I have this thing against feet AND I'm super ticklish. As far as the manicures go-there's really no need since I stay home all day. Even when I worked I just did my nails myself.