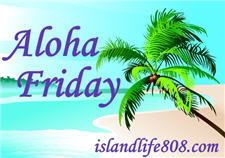 It's Aloha Friday over at
An Island Life
! Answer my question and make sure you post one on your blog! After that, go relax because today is Friday!!
My question for this week is:
If you have kids, did you find out the gender before they were born or was in a surprise? If you don't have kids, what are you doing this weekend?
I found out with both of mine. I kind of wanted Isabella to be a surprise but hubby just HAD to know. IF he ever comes around and we have another baby, I would want it to be a surprise since I already have one of each and have everything we'll need.