One of the best things about having babies and toddlers is that you can dress them any way you'd like! They don't have their own style yet and can't tell you that they don't want to wear something. I'm sure I'll be in trouble before I know it with kids who are picking out their own clothes, but for now I get to have fun.

Tiny Tots with Style
has a vast selection of clothing and accessories for babies and toddlers. I know that my kids will have their own unique look when sporting items from Tiny Tots with Style. I have fallen in love with their
girl's clothing
and accessories. I wish I would have known about them when Evan was smaller because there are quite a few items that I would have used for pictures.
Tiny Tots with Style sent Isabella one of their
Mini Blankets
and a
My Mom Rocks Cap Sleeve Tee
.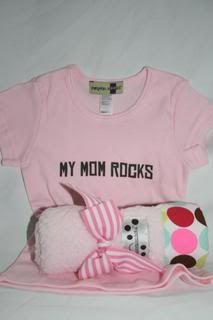 I can't wait until she's able to wear this little shirt. I'm not sure how long I'll get her into things that express her love for mommy so I might as well put her in them while I can! I'll be sure to snap pictures of her in it and post them in a few months when it fits her. In addition to being absolutely adorable, this shirt is made in the USA from gentle soft-spun cotton. It is available in several color choices to match your little girl's personality!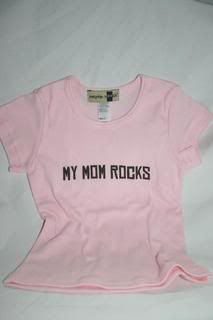 The mini blanket is incredibly soft. With it's fun design and small size, you won't mind if your little angel becomes attached to this blanket. At 15x15, it is compact and easy to take with you anywhere. We got it in the pink but it is also available in chocolate. I personally wish they had an adult size one for me to curl up with on the couch.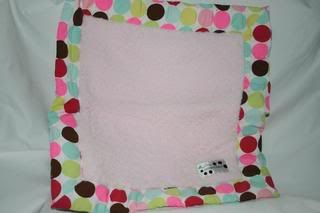 There are many other things that I would love to have from Tiny Tots with Style. I just realized that I have NO baby girl towels. I have a few that are gender neutral from when Evan was little, but nothing girly. This
Pink Disco Dot Hooded Towel
is next on my wish list for her.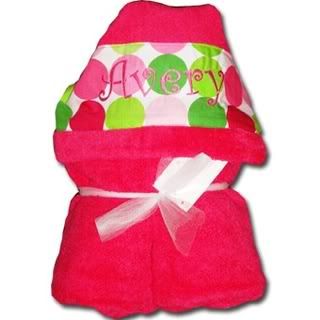 Tiny Tots with Style has more products than I could possibly list. You'll spend so much time on this website drooling over all of the possibilities for the babies in your life!
Buy It!
You can purchase the
My Mom Rocks Cap Sleeve Tee
for $28 and the
Mini Blankets
are $19.99.
Win It!!
Tiny Tots with Style is giving one of my readers a $25 gift card!
To enter, visit
Tiny Tots with Style
and tell me what you would choose!
This is required and must be done before the extra entries count!EXTRA ENTRIES!
You can do any of these things for an extra entry. Make sure to leave a separate comment for EACH thing you do.
1- For TWO extra entries, subscribe to my blog via email.
2- For TWO extra entries, blog about this giveaway. Be sure to link back to this post and
Tiny Tots with Style
.
3- Follow
@twoofakind
on twitter AND tweet about this giveaway!
You can tweet once a day for an extra entry every day!!
You can copy and paste:
Baby Bash Giveaway #18 @twoofakind - $25 Gift Card to @TTWS09 (Tiny Tots with Style) http://bit.ly/O4yQf
4- Follow my blog publicly.
5- Become a fan of Tiny Tots with Style on Facebook,
HERE
.
6- Follow Tiny Tots with Style on twitter,
HERE
.
7- For FIVE extra entries, purchase anything from
Tiny Tots with Style
before the end of this giveaway.
Contest ends at 11:59pm EST on August 5th when I will draw a winner at random. PLEASE leave your email address if it is not visible on your profile. I will notify the winner via email and they will have 36 hours to respond!
Open to anyone!!!!!!!!