Evan was a fussy baby. He always wanted to be held and I felt like I could never get anything done. My house was a mess and going to the store was almost impossible. I never knew there was such a simple solution to my problem.

The
Sleepy Wrap
would have made it where I could hold him and still use my hands. The creators wanted to find a carrier that would be comfortable for both the carrier and the carried. They found the perfect material to make their carriers after their second child was born. It is more sturdy and durable than a cotton shirt and has elasticity that bounces back. They gave some to friends and everyone was getting compliments. The name Sleepy Wrap became clear because happy parents were carrying their sleeping babies in the wraps.
They sent us a Sleepy Wrap for Isabella in red. I can't wait to use this with her.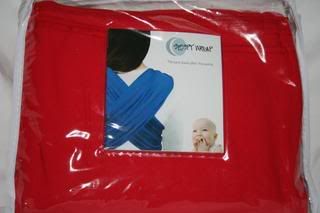 The Sleepy Wrap holds even the smallest of babies. It provides optimum support to baby's head, neck, hips, and legs. Many carriers leave little legs dangling at the hips, but baby is held tight with the Sleepy Wrap. These wraps are made of heavier cotton knit with just a touch of spandex. It provides a hands free experience and allows for discreet nursing.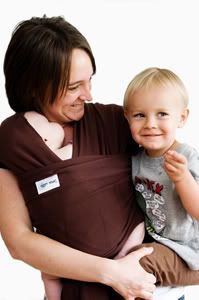 There are no buckles or buttons, just fabric. To use, the fabric is taken and crossed at the back and then brought over the shoulders. The straps are then brought down and wrapped around your waist. Holding your newborn close couldn't be easier. With two small children, I think the Sleepy Wrap will be a huge help.
Obviously, I'm huge pregnant and was not able to try out the sleepy wrap for myself. I will let you know if my opinion changes after I have the baby, but I love this wrap. My neighbor has a 3 month old baby and I got her to use it for me while we went on a walk. She said it was the most comfortable wrap that she's tried and baby was comfortable and quiet the whole time.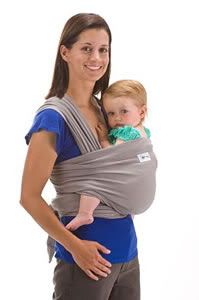 My favorite feature about the Sleepy Wrap is that you can use it from day one. Most carriers do not accommodate small babies. The sleepy wrap completely conforms to the baby and holds them super close. It would only make sense that they would be comforted since they've been held tightly inside of mommy's womb for the past 9 months. I would have been a lot less stressed if only I would have had a sleepy wrap when Evan was born.
Buy It!
The
Sleepy Wrap
is available in several colors and is $39.95.
If you use the code "TwoOfAKind" before Aug 12th, you will get 10% off of your order and shipping is FREE in the US!!!