When looking for new products, I look for items that will keep my child safe. Safety is top priority to any mom, but sometimes we aren't aware of all the options. I used the car seat that I got for my baby shower and never paid much attention to other brands.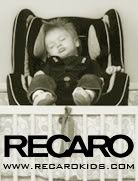 I have recently had the opportunity to learn about everything that
RECARO
has to offer. RECARO has over 100 years of company history and experience in vehicle seat construction. They have learned how to provide both safety and comfort for the whole family. In 2005, they dove into the market of
Child restraints
in the United States.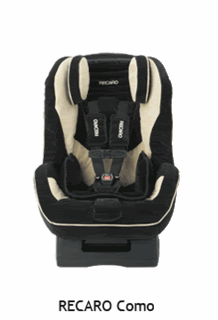 The attention that they paid to safety is fantastic. The
RECARO child Safety Seats
were inspired by Racing seats. Each seat is designed to provide maximum safety in the event of an accident. The RECARO Side Impact Protection makes me feel like my son is as safe as possible.
RECARO sent us their
Signo Convertible Car Seat
in midnight desert for my son. You can view the whole demo if you click,
here
.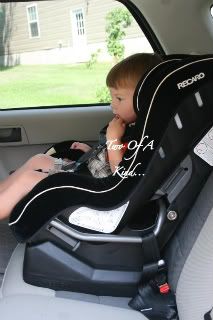 RECARO Signo Features:
-up to 8 years
-5-30 lbs. rear facing
-20-70 lbs. forward facing
-up to 50 inches
-Original RECARO Side Impact Protection
-5-point Harness System
-Double Wall Head Support
-Recline Position
-Ergonomic Shape
-Microfiber Cover
-Top Tether
-Latch Storage
-Ventilation System
-Latch Bar
-3-point Seat Belt Guide
The Recaro Signo arrived in this box. We immediately took it out and read all of the instructions. We had the complete concept in just a few minutes.
Evan was so excited about his new car seat. He wanted to sit in it as soon as we took it out of the box and we let him so that we could adjust the straps and headrest. I was amazed that you can adjust the headrest to protect your child's head-there are infinite adjustments with the Signo headrest. Not only is it safer, but it helps when they fall asleep in the car. With his old car seat, I would always look back and see his head slumped forward. He has fallen asleep several times since we've had the Signo and his head always stays put.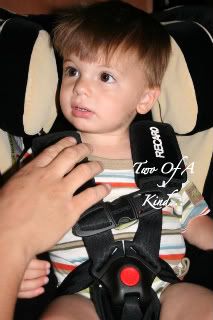 He also enjoys it because he sits up higher in this seat. It has an amazing amount of padding and I wish they had seats in my size. There is even fabric where you snap the buckles in. In the summer time. That part is HOT and the fabric protects his little legs.
I could go on and on about the amazing features of the Signo. The cover is microfiber and can be hand washed. We all know how gross children can make these seats. I am looking forward to using the recline feature with my daughter. I never knew that convertible car seats could recline when facing backwards. Since it holds children 5-70 pounds, this is the only car seat you'd have to buy!
We have had the pleasure of using the RECARO Signo for about two months and I love everything about it. The only thing that I would add is a cup holder. Evan keeps trying to put his sippy cup somewhere because his old car seat had a cup holder. As far as structure and comfort goes, we all give the RECARO Signo two thumbs up!
RECARO carries many other seats including the
Vivo and Vivo Lite
.
These seats are High Back Boosters. You can view the full Demo
here
. Their features include:
-Holds child from 3-12 years
-30-100 lbs.
-up to 59 inches
-RECARO Side Impact Protection
-Adjustable Headrest
-3 Seating Positions
-Innovative Belt Routing System
-Vivo has the Microfiber Cover
-One Hand Headrest Adjustment
-Reinforced Aluminum Structure
-Ventilation System
The Vivo and Vivo lite are both adorable and extremely safe for your growing child. There is comfortable padding and an adjustable backrest. They each have a carrying handle so that they can be easily transported between vehicles. The only difference between the Vivo and the Vivo lite is the cover material. The Vivo comes with a microfiber cover or microfiber with soft mesh inserts and the Vivo lite comes in a breathable fabric/mesh inserts combination.
Our family recommends RECARO to everyone we know. To learn more about their company and other products, visit the
RECARO
website.
Buy It!
There are many stores and websites where you can purchase RECARO products. For a full list of those locations, visit their
website
. On the RECARO website, you can purchase the
Signo
for $289.99 and the
Vivo
and
Vivo Lite
for $99.99.
WIN IT!!!
RECARO is giving a Vivo or Vivo Lite Car Seat to one of my readers!
To enter, visit
RECARO
and tell me if you'd rather have the Vivo or Vivo Lite and which color you would choose.
This is required and must be done before the extra entries count!EXTRA ENTRIES!
You can do any of these things for an extra entry. Make sure to leave a separate comment for EACH thing you do.
1- For TWO extra entries, Subscribe to my blog via email.
2- For THREE extra entries, blog about the Baby Bash and this giveaway. Be sure to link back to this post AND
RECARO
.
3- Follow me on twitter AND tweet about this giveaway!
You can tweet once a day for an extra entry every day!!
You can copy and paste:
1st Baby Bash Giveaway- WIN a RECARO Car Seat @twoofakind http://bit.ly/bR9Wk
4- Add my Baby Bash button to your blog.
5- Follow my blog.
6- For FIVE extra entries, purchase any product from
RECARO
before the end of the giveaway.
Contest ends at 11:59pm EST on July 20th when I will draw a winner at random. PLEASE leave your email address if it is not visible on your profile. I will notify the winner will have 36 hours to respond!
Open to US Only!