I'm always looking for toys that are fun and educational. Toys take up so much space and I like to know that those toys are are also going to teach my children something.
Little First Act Discovery
designed their toys with the guidance of child development experts. Their toys are made to spark an interest in music at a young age, guide babies and toddlers through learning milestones, and encourage interactive play with parents. Each toy has tips for parents on different ways their children can use the toy to learn.
We were sent the
Crawl N' Go Drum
that is designed for babies 6 months and older.
The Crawl N' Go Drum introduces baby to rhythm, tone, and pitch. This toy doesn't take up a lot of room and has so many different play options. Even though Evan is almost 2, he will sit and play with this drum for 30 minutes or more at a time. He loves music and this toy has so much that he can do. There are colorful light up buttons on one side that you can press to play music which teaches cause and effect to smaller babies. Since he has learned his colors, we also use those to practice telling me his colors.
The other side has a lid that they can push open with this button.
Inside there are 3 percussion instruments, the maraca, castanet, and tambourine. They are three different shapes and colors so you can also use these as a tool for shape sorting and practicing colors. Evan really enjoys opening the lid and playing with his own little band of instruments.
You can also turn the drum on its side and mellow steel drum music plays when it is rolled. This encourages smaller children to crawl after the drum. As they get older, it becomes a fun game with mom or dad! We sit and roll it back and forth to each other which gives us more time to bond and play.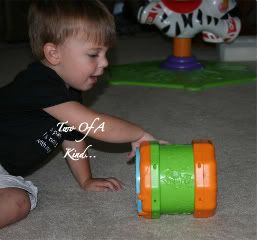 The Crawl N' Go Drum is a fun way for me to work with him and teach so many different things. We can go from rolling it back and forth to having him tell me the colors of the buttons when pushing them. We've had this toy for over a month now and he still plays with it all the time. Little First Act Discovery has many other toys that don't take up a ton of space but have a huge impact on your child's development!
Buy It!
You can purchase the
Crawl N' Go Drum
for $24.99.