I never really used a carrier with my son. I thought it would be a waste of money and would just sit in a corner. Someone did give me a super cheap one that I just didn't like and I thought all carriers would be like that. At the time, I had no idea there were so many different options.
I was recently introduced to the
Kokopax Classic Carrier
.
Kokopax
is another company that was created by a mom who is trying to help make the life's of other parents easier. Kokopax was founded in 2007 after Sara Spoor realized that the backpack carrier was a necessity for her everyday life but they were unattractive. She came across some amazing fabrics and created a new, modern look that she knew other parents would appreciate.
Kokopax sent us the
Classic Carrier
in the Garden fabric for review. It comes in this carry bag.
A lot of thought was put into the design of the Kokopax Classic Carrier. By only weighing 2.7 pounds, it makes carrying a toddler around super easy! It is made of 100% cotton canvas and an anodized aluminum frame. To make it easy for anyone to use, there is an adjustable frame with comfortable shoulder straps and a padded waist support. There is even a toy ring at the front to keep baby happy with their favorite toys.
As always, safety is most important to me. This carrier has met and surpassed my expectations. There is a 5 point safety harness to keep baby secure. The picture below is showing how the kickstand works. You just open it up and sit baby in. Once you have the baby in and secured with the safety harness, it is easy to load them on your back even by yourself. You can also see the pocket in the back of the carrier that allows for a little extra storage.
My aunt happened to be in town when we got it about 2 months ago. She's only about 5' 3" and questioned whether or not it would be comfortable for her. We strapped Evan in and she took him for a ride around the house and then outside. She was extremely pleased with how light and easy it was to carry him.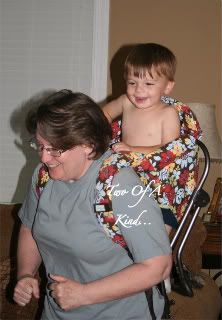 My brother is about 6 feet tall and he wore it for a while. He was comfortable the whole time and said that he even forgot he was wearing it from time to time. Since then he's also worn it at the zoo with us and was perfectly fine during the whole trip.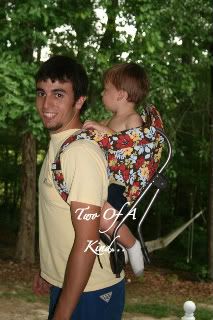 One of my favorite things about the Carrier is that there is no strap that goes around your waist. Most carriers have one and they make me feel self conscious. This was the only carrier that I was able to use during my pregnancy because it was just like carrying a backpack.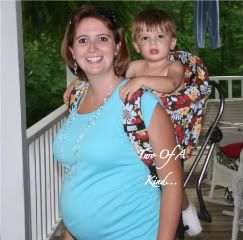 Many carriers only allow you to wear them while baby is still pretty small. They become uncomfortable to wear when baby weighs more. The Kokopax carrier can be used on babies from about 6 months until they are 2 years old or 35 pounds. This is the only carrier that I've been able to use with Evan at this age-he's really too big for us to wear the other ones comfortably. The Kokopax Carrier evenly distributes the weight and makes it comfortable to use with heavier babies and toddlers.
I absolutely love this carrier and enjoy using it, my only problem is the size. It is super light, but it doesn't fold up very small. It's not one that I can keep in my car because it takes up a lot of space in the back and I still don't know where I'm going to stash it inside. Right now it is in Isabella's closet and it would be so much easier if I could just leave it in my car! I'm sure I'll walk out of the house many times and forget to bring it with me. You'll also have to use another carrier for babies under 6 months, which is fine because most of those carriers only go up to about 6 months and then you'll need a new one anyway.
Kokopax also carries a tote and sun hat. The
Blakely Ring Tote
is available in the same colors as the Carriers for a perfect match! It is 18" x 4 ½" x 18" and made of 100% cotton canvas. There is an attachable mini-tote and separate zipper pocket for extra storage. The key fob and bottle/beverage compartment makes this tote amazingly functional.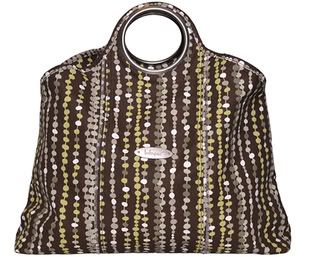 Buy It!
You can purchase the
Kokopax Classic Carrier
for $179.99 and the
Blakely Ring Tote
for $79.99
Win It!
Kokopax is giving one of my readers a Ring Tote.
To enter, visit
Kokopax
and tell me which fabric you'd like your tote in.
This is required and must be done before the extra entries count!EXTRA ENTRIES!
You can do any of these things for an extra entry. Make sure to leave a separate comment for EACH thing you do.
1- For TWO extra entries, Subscribe to my blog via email.
2- For TWO extra entries, blog about this giveaway. Be sure to link back to this post and
Kokopax
.
3- Follow
@twoofakind
on twitter AND tweet about this giveaway!
You can tweet once a day for an extra entry every day!!
You can copy and paste:
Baby Bash Giveaway #27 - Kokopax Tote valued at $80 @twoofakind http://bit.ly/lpPva Open to US And Canada!
4- Follow my blog publicly.
5- Join Kokopax on
Facebook
.
6- Add my blog to your technorati Favorites(leave your Technorati ID in your comment).
7- For FIVE extra entries, purchase anything from
Kokopax
before the end of this giveaway.
8- Enter the
Fortune Cookie Giveaway
.
Contest ends at 11:59pm EST on August 17th when I will draw a winner at random. PLEASE leave your email address if it is not visible on your profile. I will notify the winner via email and they will have 36 hours to respond!
Open to US AND Canada!