How often have you gone to visit new parents and they're giving out bubblegum cigars? It's always the same thing. I was trying to think of something different that we could do and I've found it!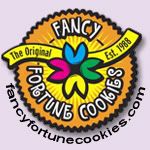 Fancy Fortune Cookies
allows you to personalized your own fortune cookies for any occasion. They have Giant Fortune Cookies, Vanilla Fortune Cookies, Flavored Fortune Cookies, and Chocolate Covered Fortune Cookies. The Fortune Cookies are made fresh in their bakery to ensure that they arrive crunchy and perfect for your occasion.
Fancy Fortune Cookies sent us this huge box full of
Raspberry flavored Fortune Cookies
for the big day!
I had so much fun choosing which cookie and which messages that I wanted them to say. I chose one message and then she told me that I could choose up to FIVE different messages!! She was so much help and even sent over a list of ideas that I could use for sayings. Each message can have up to 3 lines with 30 characters per line. I chose three- "Sugar and spice and everything nice… That's what little girls are made of.", "It's A Girl!", and then one with her full name on it.
Ours are going to be used at the hospital but they would make great favors for baby showers as well! I've also heard of people proposing with fortune cookies-why not use a
GIANT fortune cookie
to pop the question? These would make lasting impressions for small businesses at trade shows or for larger companies at corporate events. The ideas are endless and they can be used for everything from Birthdays to Weddings!
Even though we had ours done in Raspberry, there are several other flavors available. I'd personally like some in Double Chocolate as well-YUM! They have a bubblegum flavored one that is also light pink and would be pretty funny to use for babies because so many people give out those bubblegum cigars.
Here is one of our fortune cookies. Hopefully she'll decide to make an appearance soon so that we can use them! They have a light raspberry taste and are the perfect color for a baby girl. We've had them for a few weeks and they are still amazingly fresh and crunchy.
Buy It!
You can purchase 100 flavored fortune cookies for $48.
Win It!!
Fancy Fortune Cookies is giving one of my readers 100 personalized fortune cookies!
To enter, visit
Fancy Fortune Cookies
and tell me which flavor you think you'd choose and what occasion you'd use them for.
This is required and must be done before the extra entries count!EXTRA ENTRIES!
You can do any of these things for an extra entry. Make sure to leave a separate comment for EACH thing you do.
1- For TWO extra entries, Subscribe to my blog via email.
2- For TWO extra entries, blog about this giveaway. Be sure to link back to this post and
Fancy Fortune Cookies
3- Follow
@twoofakind
on twitter AND tweet about this giveaway!
You can tweet once a day for an extra entry every day!!
You can copy and paste:
Baby Bash Giveaway #26 - 100 Personalized Fortune Cookies @twoofakind http://bit.ly/18ydTP Open to US And Canada!
4- Follow my blog publicly.
5- Join their
Friends List
(bottom left) and you will be automatically entered to win 25 free fortune cookies!
6- Place my green Two Of A Kind, Working On A Full House button on your blog.
7- For FIVE extra entries, purchase anything from
Fancy Fortune Cookies
before the end of this giveaway.
Contest ends at 11:59pm EST on August 17th when I will draw a winner at random. PLEASE leave your email address if it is not visible on your profile. I will notify the winner via email and they will have 36 hours to respond!
Open to US AND Canada!