Dirty diapers are a sure way to stink up a room! You try to bag them and put them in the trash, but the odor always sneaks out. With Evan we are constantly taking his dirty diapers outside so they don't stink up his room or the rest of our house. No matter what we tried, there was odor or the hassle of trying to throw it away while taking care of a squirming baby.
Diaper Dekor Diaper Disposal
has a solution to the odor! It is a hands free system that is sure to make your life easier. To use, just step on the bottom and drop the diaper in. There is a rubber sealed trap door to keep odors in. The odor resistant ABS plastic is easy to clean and keeps your house smelling great!
The Diaper Dekor comes in three sizes. The regular Dekor holds about 240 diapers per refill, the Dekor Plus holds about 335, and the Dekor XL holds about 400 diapers per refill. They all have an attractive, modern design that is sure to compliment any nursery.
Features include:
- Simply step on the pedal and the lid opens. Drop your diaper into pail and you are done!
-Unique trap door design prevents odors from escaping into your nursery.
-Contemporary, clean design for use anywhere in your home.
-Diaper Dékor refills hold more diapers than the leading brand, up to twelve times as many!
-Made of durable scratch resistant ABS plastic that doesn't "pick up" odor.
-Use after diapers as garbage can, also great for kitty litter or in the garage!
We were sent the
Diaper Dekor Plus
and a
refill pack
.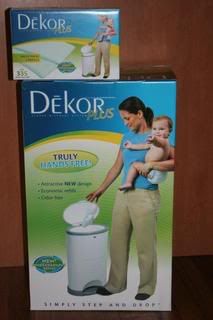 I love the look of the Diaper Dekor. I like products with clean lines and this one fits in with my house. It is also amazingly easy to use. You just step on the pedal at the bottom and the lid opens.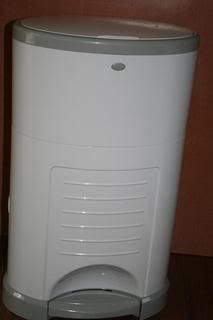 Once the lid opens, you drop the diaper in. If you look at the top of this picture there is a knob. You can turn the knob so that the trap door stays locked. This will come in handy when you have a toddler who has learned to open the lid and likes to push down on the trap door! I keep it locked most of the time so that when Evan does mess with it, it stays closed and keeps the odor in.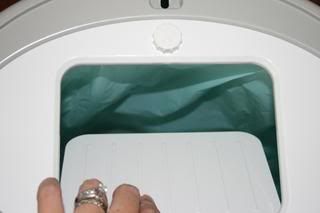 To get to the refill, there is a door on the front that opens from the side.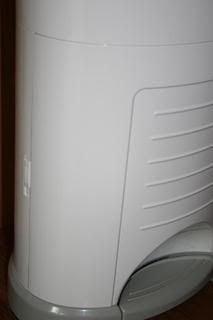 The refill will hold about 335 diapers before you have to put a new one in. You do have to empty the Diaper Dekor after about 40 diapers so that it doesn't fill up. To do this you simply pull down on the bag and cut above where the diapers are using that diaper cutter on the door. Throw the bag of dirty diapers in the trash and tie a new knot in the bag. Their website has a
video
so that you can see for yourself how to do that.
I would recommend the Diaper Dekor to anyone! I have one upstairs now and I want to get one for downstairs as well. When Isabella gets here I will put the one upstairs in their bathroom since it is located centrally between their rooms. If you're looking for an EASY way to keep odor to a minimum, go with the Diaper Dekor!
Buy It!
You can purchase the
Diaper Dekor Plus
for $39.95 and the
refill pack
for $14.95.
WIN IT!!!
Diaper Dekor is giving one of my readers a Diaper Dekor Plus AND the Diaper Dekor Plus Refills!
To enter, visit
Diaper Dekor
and tell me something you learned from their
FAQs page
, or anywhere else on the website.
This is required and must be done before the extra entries count!EXTRA ENTRIES!
You can do any of these things for an extra entry. Make sure to leave a separate comment for EACH thing you do.
1- For TWO extra entries, Subscribe to my blog via email.
2- For TWO extra entries, blog about this giveaway. Be sure to link back to this post and
Diaper Dekor
.
3- Follow
@twoofakind
AND
@DiaperDekor
AND tweet about this giveaway!
You can tweet once a day for an extra entry every day!!
You can copy and paste: Baby Bash Giveaway #10- Diaper Dekor Plus AND Refil Kit @twoofakind @DiaperDekor http://bit.ly/2NKoC
4- Follow my blog publicly.
5- Become a fan of Diaper Dekor on
Facebook
.
6- Sign up for the Diaper Dekor
newsletter
(top right corner).
7- For FIVE extra entries, purchase any item from
Diaper Dekor
before the end of this giveaway.
8- Enter the
myMonkeymoo stroller pad/blanket set giveaway
.
Contest ends at 11:59pm EST on July 24th when I will draw a winner at random. PLEASE leave your email address if it is not visible on your profile. I will notify the winner via email and they will have 36 hours to respond!
Open to US Only!