My mom and I will be hosting a baby shower for my cousin who will be having a little boy in a few months. We've already started planning what food we'll have, but we were at a loss about centerpieces. We wanted them to be something that would also be gifts for the new baby.

Diaper Cakewalk
gave me a great idea for a
new baby gift
. They have a fantastic selection of diaper cakes that are sure to be a crowd pleaser at baby showers. Their cakes are done with size 1-2 diapers so that baby does not immediately outgrow them. Quite a few
celebrities
have purchased their diaper cakes or received them as gifts.
Diaper Cakewalk sent us the
Jungle Safari Diaper Cake
in Pink for my baby. It came wrapped to keep it safe.
My Diaper Cake includes:
- Plush pink hippo
- Pacifier
- Johnson's baby shampoo
- Johnson's baby wash
- Johnson's baby lotion
- Desitin diaper rash cream
- Three baby wash cloths
- Silk gerber daisies
- 70-70 Pampers Swaddlers, size 1-2
The cake is completely customizable. You can have 4 or 5 tiers, just select what size you'd like. You can also choose between Burt's Bees or Johnson's products. The theme is very versatile and is sure to be a big hit with mom!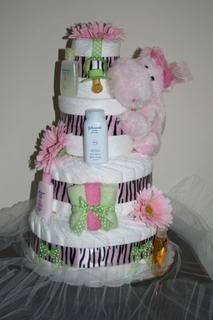 I was thrilled when I received the Diaper Cake in the mail! It is even cuter in person and I couldn't wait to show everyone I know. It is 12"W x 20"H and is sitting on Isabella's dresser. It is going to break my heart when I end up taking it apart to use the diapers-I love using it as decoration in her room!
They would also make great gifts when visiting mom in the hospital. Instead of taking flowers that are going to die, take a diaper cake that will be more practical!
Diaper Cakes are the gift that keeps giving. We'll end up buying one for my cousin's baby shower to use as a center piece. It will double as a baby gift for her. She can use it for a month or two as decoration in the new baby's room and then she'll be able to use all of the diapers and Johnson's products!
You can also find Diaper Cakewalk on
twitter
and
facebook
.
Buy It
You can purchase the
Jungle Safari Diaper Cake
for $89.