I was ended up only breastfeeding Evan for a few months. I think I would have done it a lot longer if I would have had a breast pump and a storage system. With this baby I have a breast pump(that I'll be telling you about tomorrow) and a great storage system.
Dexbaby
was super sweet and sent us the MilkBank Storage System, (3) 4.5oz storage bottles, (3) 2.5oz storage bottles, (1) 8 oz vented feeding bottle, (2) 2.5oz ventilated feeding bottles, and (3) 5oz ventilated feeding bottles.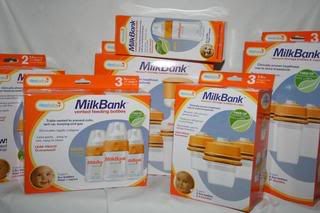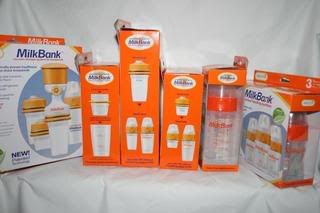 The
MilkBank Storage System
includes:
1 Vacuum Pump
3 Storage Caps
1 2.5 oz storage/feeding bottle
2 4.5 oz storage/feeding bottles
1 outer insulated bottle with Stage 1 nipple & cap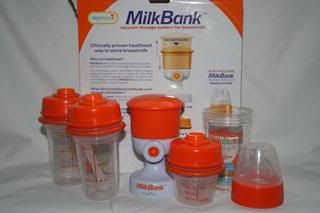 MilkBank allows for your baby to have the freshest breast milk possible. Traditional methods such as bags and bottles trap oxygen when sealed. Any level of oxygen exposure begins to spoil breast milk which impacts the nutritional value and distorts the flavor. MilkBank allows you to vacuum seal breast milk into storage bottles for later feedings.
How It Works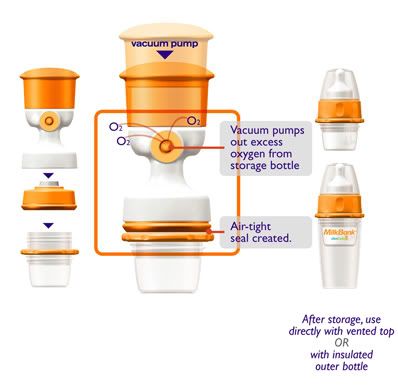 I am all about any product that is better for my baby. It only makes sense that taking the oxygen out will allow breast milk to keep the nutritional value. Now that I have the MilkBank Storage System, I can pump and store my milk in the freezer. One of the main reasons I quit breastfeeding is that I am modest and didn't want to do it in public. I was skeptical of storing milk and now that I have this system I can just grab a bottle and go. I know that my baby will still be getting nutritional breast milk and I won't have to worry about ducking into dressing rooms to feed her.
Evan was a fussy baby. He had a touch of colic and horrible reflux. We tried several bottles to keep the air out, but they were all hard to keep clean. MilkBank has a
triple-vented
cap that prevents colic, spit-up, burping, gas, and fluid in the ear. Not only is it leak-proof, but it is also 100% dishwasher safe!! There are no extra brushes which means less fuss!
How Vented Feeding Bottles Work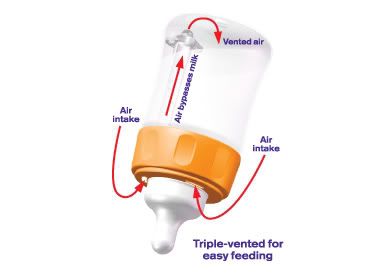 Did you know that warm milk or formula allows for the best nutritional absorption? MilkBank has amazing
Insulated Feeding Bottles
that will keep milk warm throughout the entire feeding. You can use air or warm water to keep the inner bottle insulated. These bottles are also ventilated. Not only will baby receive the best nutrition possible with the warm milk, but it also has all of the same features as the the ventilated bottles.
How Insulated Bottles Work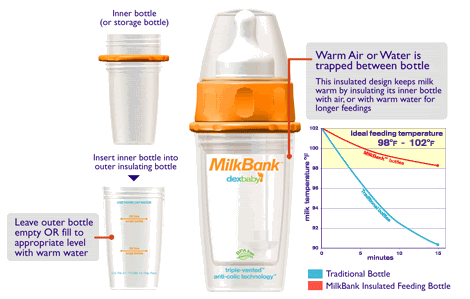 This is a picture of a storage bottle inside of the insulating bottle.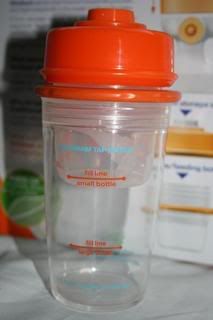 You can see where you would fill with warm water if you were using either the 2.5oz or 4.5oz bottle. If the milk is already at the right temperature, you can just leave the outer insulated bottle empty and it will still keep milk warm.
I am really excited to use the MilkBank Storage System with Isabella. I am looking for any products that will make my life easier with a newborn and a toddler and MilkBank is perfect. It only takes pumping the air out to keep my breast milk more nutritional when stored. If I take bottles with me, I don't have to take time away from my son if we're out and I need to feed the baby. Even the ventilated bottles are dishwasher safe so I don't have to spend unnecessary time scrubbing them either! I want to thank Dexbaby again for sending us all of these bottles for the Baby Bash!
Buy It!
MilkBank products are available at BabiesRUs. To find locations near you, use the
store locator
to plug in your zip code.
WIN IT!!!
MilkBank is giving one of my readers a Storage System Starter Kit.
To enter, visit
MilkBank
and tell me something your learned-either about the product or something from their
helpful links
.
This is required and must be done before the extra entries count!EXTRA ENTRIES!
You can do any of these things for an extra entry. Make sure to leave a separate comment for EACH thing you do.
1- For TWO extra entries, subscribe to my blog via email.
2- For TWO extra entries, blog about this giveaway. Be sure to link back to this post and
MilkBank
.
3- Follow
@twoofakind
on twitter AND tweet about this giveaway!
You can tweet once a day for an extra entry every day!!
You can copy and paste:
Baby Bash Giveaway #14 MilkBank Storage Starter Kit @twoofakind http://bit.ly/ZD3Mu Open to US AND CANADA!
4- Follow my blog publicly.
5- Place my green Two Of A Kind, Working On A Full House button on your blog.
6- Follow MilkBank on Twitter,
HERE
.
7- Enter the
Baby Fabulous Blanket Giveaway
Contest ends at 11:59pm EST on July 29th when I will draw a winner at random. PLEASE leave your email address if it is not visible on your profile. I will notify the winner via email and they will have 36 hours to respond!
Open to US AND CANADA!!!!!!!!