Some baby items are a necessity. We don't buy them because they're cute-we buy them because we have to. Sometimes those things, such as humidifiers, are such an eye sore.
Thanks to
Crane
, that is no longer one of those necessities that we hate to look at. Instead, we can display it proudly as part of our baby's decor. In 2005, Crane took the plunge and brought us their adorable line of humidifiers. They knew that humidifiers are one of the best ways to relieve nasal congestion during cold and flu season, but they wanted people to be excited about choosing their humidifiers.
They even took it a step further and came out with some amazing air purifiers. The EPA estimates that indoor air pollutant levels may be 2-5 times higher than outdoor levels. That fact is extremely disturbing and Crane wants to help keep families safe. They have since introduced a line of AHAM certified air purifiers with a five step filtration system including a HEPA filter and UV germicidal light.
Crane sent us this adorable
Frog Cool Mist Humidifier
. I chose the frog because it is extremely gender neutral and can be used in either of our children's room. Right now we have it sitting in Evan's room since Isabella isn't here yet.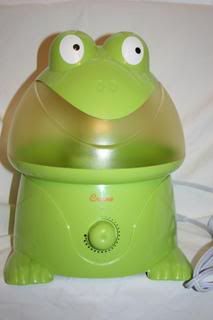 Frog Cool Mist Humidifier Features:
- Provides Relief from Cough, Cold and Flu Symptoms
- Recommended Non-Medicated Alternative to the Over the Counter Children's Cold and Cough Medicine FDA Warning
- Provides Moisture for Nasal Congestion, Dry Cough, Sinus Irritation, Dry Skin
- Easier Breathing for a Good Night's Sleep
- One Gallon Water Tank Runs Whisper Quiet up to 11 hours
- Auto Off Function When Tank is Empty
- Up to 2.1 Gallon Moisture Output per Day
- Removable Water Tank that Fits Easily Under Most Bathroom Sinks
- Provides Moisture for Dry Cough, Sinus Irritation, and Dry Skin
- Low Power Consumption
- Design copyright protected
- Suitable room size: Approx. 250 sq.ft/ 23m2
- Patented
- FDA registered
You can easily take the frog's eyes and nose off to get to a handle. This makes it easier to hold when you are filling the face up with water. There is a slit in the top of the frogs head where the mist will come out. It is easy to fill with water, works extremely well, and is very quiet.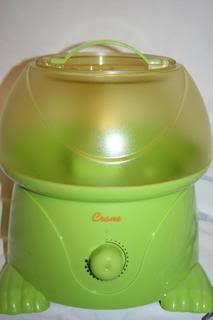 I asked for the frog because I wasn't sure who I would use it for. I think it will stay in Evan's room. Even though Isabella's room is more butterflies and flowers, I think I'm going to get the pink pig one for her because I am in love with it. I had such a hard choice and now I've decided to just go out and get the pink pig humidifier for her room.
They are all absolutely adorable and you will have as hard of a time choosing which one to go with as I did!
Buy It!
You can purchase these Humidifiers on
Amazon
for about $35.
WIN IT!!!
Crane is giving a Cool Mist Humidifier to one of my readers!
To enter, visit
Crane
and tell me which humidifier you would choose.
This is required and must be done before the extra entries count!EXTRA ENTRIES!
You can do any of these things for an extra entry. Make sure to leave a separate comment for EACH thing you do.
1- For TWO extra entries, Subscribe to my blog via email.
2- For THREE extra entries, blog about this giveaway. Be sure to link back to this post and
Crane
.
3- Follow
@twoofakind
AND tweet about this giveaway!
You can tweet once a day for an extra entry every day!!
You can copy and paste:
Baby Bash Giveaway #5- Crane Humidifier @twoofakind http://bit.ly/KHBft Open to US AND Canada!
4- Add my Baby Bash button to your blog.
5- Follow my blog.
6- Add my blog to your Technorati Favorites.
7- Enter the
RuffleButts Giveaway
.
Contest ends at 11:59pm EST on July 20th when I will draw a winner at random. PLEASE leave your email address if it is not visible on your profile. I will notify the winner via email and they will have 36 hours to respond!
Open to US And Canada!