The double stroller is another must have product now that I will have a 2 year old and a baby. Evan is still too young to walk around and he does really well in the stroller. I have put a lot of thought into a double stroller and knew that I wanted one where both seats were fully adjustable. I don't understand those strollers that don't allow one child to lay down.

Bumbleride
is a company that has spent countless time on the design of their strollers. They understand the demands of life with small children and have tried to accommodate them in any way possible. They have made their strollers extremely practical while also allowing for style. Bumbleride has taken extra lengths to ensure that you will be proud to push one of their strollers.
We were fortunate enough to receive the
Indie Twin Stroller
from Bumbleride. I won't be able to give a full review until after the baby arrives and we've had a chance to put it to the test, but we wanted to include it in my Baby Bash.
I want you to check out the
Bumbleride website
so that you can view all of the features, but I did want to share my initial thoughts about the Indie Twin.
At this stage, all we've done is put the stroller together and push it around a little. It came with the seats together and all we had to do was put the canopies and wheels on. Within 10 minutes, my husband had the stroller up with the wheels on. I remember it taking me forever to put my son's SINGLE stroller together and anticipated that it would take more time for the double stroller. It was put together with ease and I was extremely pleased. It is only 29 inches wide and weighs 34 pounds.
This is one of the wheels. I love that they're so large! We go to the beach all the time and this will make maneuvering on the sand incredibly easy. The front has two wheels so that no matter where you are, turning will be a breeze. The tires can also be locked in line in the forward or rear facing position for brisk walks.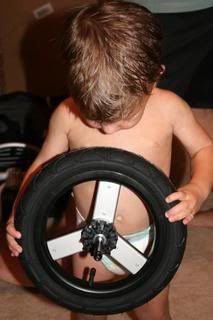 The canopies have a removable rear panel. This can either provide extra airflow or allows you to pull the canopy down further for maximum sun coverage. The canopies also have a viewing window in the top for watching your baby and a zippered pocket in the back for any extra accessories that you need to store.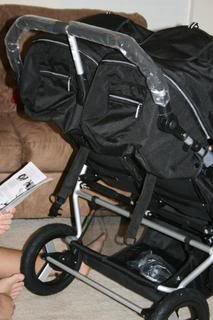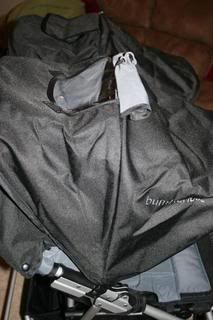 Both seats are fully adjustable and have their own mechanism which allows for unlimited positions. Simply push the button and pull the piece up or down. Both seats can lay completely flat.
The footrests are adjustable as well. They can stick straight out, or be pushed down so legs and feet can dangle. My only problem with this is that you have to hold this knob and push down at the same time. We had a hard time keeping our fingers under the footrest after it went down to a certain point. You'd have to squeeze your hand in there so you could continue pushing the knob while putting the footrest down.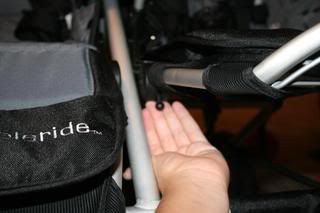 An Infant Seat Adapter is included and works with with several different car seats. You can only put one adapter on at a time. Even though you can only use one infant seat at a time, the Bumbleride seats accommodate infants when in the lowest setting. Most strollers don't allow for infants to be placed directly in the seats. This would be a great stroller for parents of twins when not using infant seats and is perfect for parents with children of two different ages.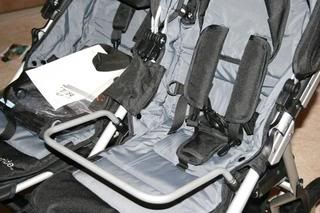 The Bumbleride comes with a cup holder that can easily be removed. I personally wish there were two cup holders because I'm usually not alone and it would be nice to have one for my husband as well.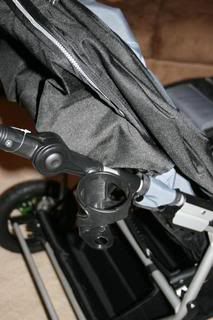 Once folded up, there are two straps on the bottom so that toting the stroller is easier.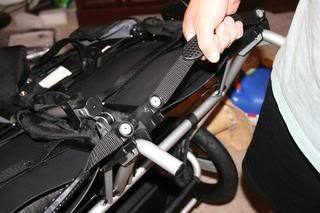 And just when you thought this stroller couldn't have anymore, it also comes with a rain cover and air pump!!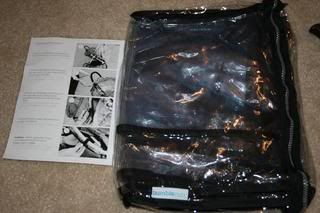 I am very impressed with all of the different options that we have with the Bumbleride Indie Twin. I will be writing a review about how it handles out in public after the baby gets here and we've had time to completely put it to use. You'll need to visit the Bumbleride website to read about everything that the Indie Twin has to offer.
Buy It!
You can purchase the
Bubleride Indie Twin Stroller
in several different colors for $659.99.
WIN IT!!!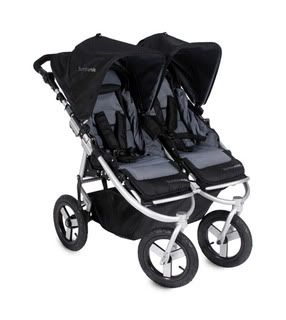 Bumbleride is giving one of my readers an Indie Twin!
To enter, visit
Bumbleride
and tell me me your favorite feature of the Indie Twin AND what color you would choose
This is required and must be done before the extra entries count!
EXTRA ENTRIES!
You can do any of these things for an extra entry. Make sure to leave a separate comment for EACH thing you do.
1- For TWO extra entries, Subscribe to my blog via email.
2- For TWO extra entries, blog about this giveaway. Be sure to link back to this post and
Bumbleride
.
3- Follow
@twoofakind
AND tweet about this giveaway!
You can tweet once a day for an extra entry every day!!
You can copy and paste:
Baby Bash Giveaway #11- Bumbleride Indie Twin Stroller valued at $650 @twoofakind http://bit.ly/YTO0d Open to US AND CANADA!
4- Follow my blog publicly.
5- Become a friend of Bumbleride on
Facebook
.
Contest ends at 11:59pm EST on August 11th when I will draw a winner at random. PLEASE leave your email address if it is not visible on your profile. I will notify the winner via email and they will have 36 hours to respond!
Open to US AND CANADA!!!!!!!!