I first introduced you to Baggino a few weeks ago when I posted a review and giveaway for one of their
Learner's Bibs
. I think you were all as impressed with the bib as I was! They have another product that is just as genius as the bib.
The Baggino actually has a
Combination Diaper Bag-N-Changing Belt
that converts from a messenger bag to a hands-free baby changing waist belt. Their products come from a mom and dad who travel everywhere with their baby. Their mission is to design products that make everyday life easier for parents. Mom is actually pregnant with their latest addition now!
Baggino sent us their
Combination Diaper Bag-N-Changing Belt
to try out.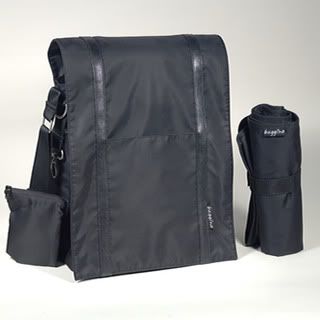 If you have problems with organization-this bag is the answer. There is a place for absolutely everything so you won't have to dig around at the bottom of the bag to find what you're looking for. There actually isn't a bottom to this bag for things to get lost in. There are only compartments that hold everything and then it zips down the middle to close.
These are the inside pockets. To close, you just zip the two ends shut and bring the flap over.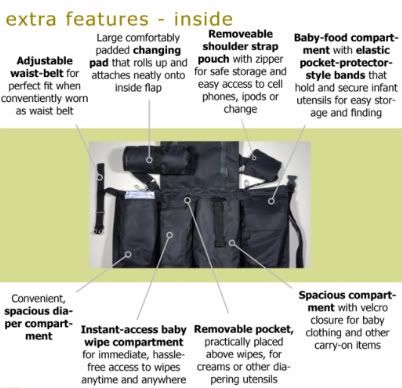 Here is the back of the bag when it is zipped.
One of my favorite things about this diaper bag is that it attaches to the back of your stroller. The stroller we have now has a basket underneath, but my bag is about all I can fit in it. This is the bag on the back of the stroller.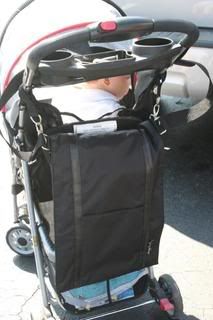 This is one of the Velcro straps that keep it secure.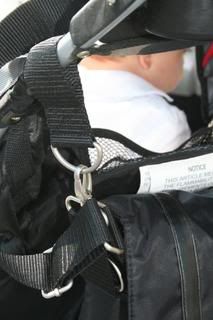 When it is time to change the baby, you can easily turn it into a changing belt. To transform the bag, simply unzip the front and wrap it around your waist. Everything will be at your fingertips and make it so you don't have to fumble with your bag. To see a video of how it works, click
here
.
This bag has fixed so many of our problems. Not only do I have space in the stroller basket to put other things, but I'm also more organized. I was always wasting time searching for things. With the Baggino
Combination Diaper Bag-N-Changing Belt
, everything has its own place. I was always leaving my changing pad at home because it took up too much space, but this bag has a place for it so that it doesn't get in my way.
If you're tired of putting your diaper bag on the floor when changing diapers or need help with organization, this is the bag for you!
Buy It
The
Combination Diaper Bag-N-Changing Belt
is available for $129.
WIN IT!!!
Baggino is giving one of my readers a Combination Diaper Bag-N-Changing Belt!
To enter, visit
Baggino
and tell me which color you'd choose AND what your favorite feature is!
This is required and must be done before the extra entries count!EXTRA ENTRIES!
You can do any of these things for an extra entry. Make sure to leave a separate comment for EACH thing you do.
1- For TWO extra entries, subscribe to my blog via email.
2- For TWO extra entries, blog about this giveaway. Be sure to link back to this post and
Baggino
.
3- Follow
@twoofakind
on twitter AND tweet about this giveaway!
You can tweet once a day for an extra entry every day!!
You can copy and paste: Baby Bash Giveaway #15- Diaper Bag/Changing Belt valued at $129 @twoofakind http://bit.ly/kKUbh Open to US And Canada
4- Follow my blog publicly.
5- Place my green Two Of A Kind, Working On A Full House button on your blog.
6- Sign up for the
Baggino Email Newsletter
located at the top right corner.
7- Enter the
MilkBank Storage Giveaway
.
Contest ends at 11:59pm EST on July 29th when I will draw a winner at random. PLEASE leave your email address if it is not visible on your profile. I will notify the winner via email and they will have 36 hours to respond!
Open to US AND CANADA!!!!!!!!