I am 38 1/2 weeks pregnant which is just so hard to believe-I'm still not sure where all that time went! I went to the doctor yesterday and am now 5cm. Slowly, but surely I'm getting to 10cm without actually being in labor. I was hoping they could induce on Friday(Evan's bday is Monday), but they can't induce until 39 weeks(Sat).
I'm pretty sure that he stripped my membranes while I was there and I had contractions all day yesterday. Before I left the doctor we watched and I had several contractions while still there. He told me I would have the baby either yesterday or today-I told him not to be so sure! I'm still having them now, but they're not as intense. My fingers are crossed that my water will just break soon so that I don't have to play this guessing game of if this is real or not. If it wasn't raining I would be tempted to go for a walk!
On one hand, I'm REALLY ready for her to just get here. I think that I know how close I am and am just ready to hold my little girl in my arms. BUT, we've been spending a lot of time together as a family of 3 which I think is good for Evan. I'm also not quite ready to be done being pregnant. If this is our last baby, this will be the last time I feel these little movements inside of me.
He was going to schedule to induce next Wednesday, but then told me he wasn't because he knew I'd have the baby before then. He told me that he would be the one at the hospital on Sat and if I come and have ONE contraction then he'll keep me and help me along. At first I was excited about that, but now I'm just scared I'll show up and be sent home. I think I might call today or tomorrow and see if they'll put me back on the books for next Wednesday.
But for now, here is a recent belly pic.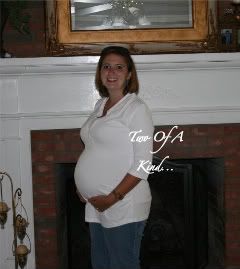 I know I've been a little MIA lately, but I've also had some family issues. My grandmother is back in the hospital and we had family in town this weekend. I'm still getting new Baby Bash giveaways up so stay tuned! I was thinking that Isabella would be here to test a few for herself before the bash was over, but it's not looking that way!