I believe in at least trying to breastfeed. I know it's not every mom's choice, and I also know that some just can't do it, but I think that mom's should give it a try. Unfortunately, I only breastfed my son for 4 months. I wanted to go longer but I am way too modest and couldn't bring myself to feed him out in public. I was always ducking into dressing rooms and feeding him in the parking lot. I had a cheap breast pump and it never worked well so I didn't use it.
If I would have had a the
Ameda Purely Yours Ultra Double Electric Breast Pump
, I know I would have breastfed for longer. Ameda is a name that I can rely on-many hospitals sell this pump to their new mommies because they know from experience that it will benefit them. Over 60 years ago, Einar Egnell created a new technology to mimic the suckling rhythm of nursing. Ameda took that technology and created a
breast pump
that is comfortable and efficient. If you need more reasons to choose Ameda, you can visit their
Why Ameda page
.
Ameda sent me their
Ameda Purely Yours Ultra Double Electric Breast Pump
to use with the new baby.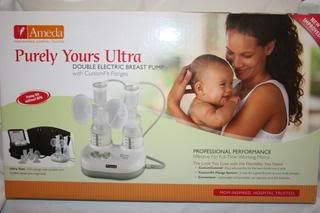 I obviously haven't used it because the baby isn't here yet, but I wanted to tell you about the pump. I am extremely impressed with all of the different options of the Ameda pump. My old pump only had 2 suction strengths and it was just a single pump. I wish that I would have looked into better breast pumps so that I would have breastfed longer.
Ameda understands that every woman is different and needs unique pumping patterns. The Ameda Purely Yours Ultra Double Breast Pump has separate suction and speed dials that allow you to choose from THIRTY TWO different combinations to ensure that you have the most effective pumping experience.
A perfect fit allows for more comfort and better milk flow. The Ameda pump has a CustomFit Flange System. Flange fit can change with birth breastfeeding, and pumping, so Ameda has included the three most popular flange sizes for the perfect fit.
I'll be using my pump to store milk so that I can have it when we're out and about. I'll still have to pump some while on the go, but I'll mostly be using it at home. Many moms have to go back to work and pumping is the only way that they'll be able to continue breastfeeding. The Purely Yours Ultra has everything moms will need to discreetly pump while on the go.
Features Include:
-HygieniKit® Milk Collection System with 2 additional size flange options
-Cool N Carry™ Milk Storage Tote with 3 cooler packs and 4 extra storage bottles
-12V Car Adapter
-One Hand Manual Pump Adapter
-Extra Valves, Nylon bag for parts and easy to clean pumping pad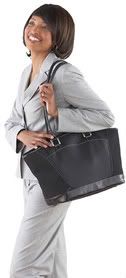 The tote is a amazingly stylish and no one will have a clue that it contains a breast pump! The pump is extremely lightweight and can even operate on 6 AA batteries. The HygieniKit Milk Collection System prevents milk from entering the hard-to-clean tubing and pump motor. The HygieniKit is dishwasher safe and can convert to a manual pump if needed.
I never thought I'd say this, but I am really excited to breastfeed. My goal is to breastfeed for most of Isabella's first year. Not only is it healthier for her, but formula is so expensive and breastfeeding will cut costs tremendously.
I'll be sure to share my thoughts on it after I've put it to the test!
Buy It!
You can purchase the Ameda Purely Yours Ultra Double Electric Breast Pump for $299.99.