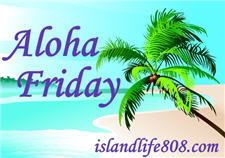 It's Aloha Friday over at
An Island Life
! Answer my question and make sure you post one on your blog! After that, go relax because today is Friday!!
My question for this week is:
Do you usually eat breakfast?
I try to eat breakfast every morning but it usually ends up just being cereal or a pop tart!
Don't forget about the Baby Bash! A HUGE giveaway will be posted within a day!!!