I take thousands of pictures. It is hard to get the "perfect picture" of a squirming baby or toddler and it sometimes takes 100 bad shots before you get the one you want. I delete the really bad ones, but I still keep a ton of pictures! They are my most valued possession.
I haven't been as good as I should on backing them up just in case something were to happen to my computer or if there was a fire. I was recently introduced to
Picture Keeper
that will keep my pictures safe. The idea for Picture Keeper came from Matthew Stanchie in 2006 after one of his close friends lost all of her digital images during a lightening storm.
Picture Keeper is a USB device that is available in 4GB, 8GB, and now 16GB. They have even started working on external hard drive versions that can hold up to 100-300 GB. The device automatically finds all images with jpeg/jpg extensions and all folders and subfolders are copied. There is no extra software so you can upload pictures from multiple PC and MAC computers.
Picture Keep sent me a 16GB USB to save my pictures on. Not only does it keep my pictures together in a very compact USB device, but it requires almost no work from me. I simply plug it into my computer and click on the Start Backup button. It immediately finds my pictures and puts them on the device.
I can go back in a few weeks and it immediately finds the NEW files and downloads them. You don't have to search for pictures. I love that Picture Keeper only requires a few clicks of the mouse and then I can leave it to download my pictures.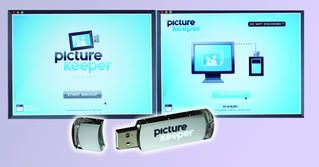 Some people use CDs to back up their pictures, but they can scratch and don't hold near as many pictures. My tiny Picture Keeper is holding 18,847 pictures right now and it hardly takes up any space in my fire proof safe.
I feel confident that I will always have my memories no matter what happens. I think any mom would agree with me that their pictures are worth everything to them. I couldn't imagine what I'd do if I lost any of them!
Buy It!
The
4GB
is available for $29.99, the
8GB
is $39.99, and the
16GB
is $59.99.
WIN IT!!!
Picture Keeper is giving one of my readers a 4GB or 8GB Device.
To enter, visit
Picture Keeper
and tell me if you'd need the 4GB or 8GB.
This is required and must be done before the extra entries count!EXTRA ENTRIES!
You can do any of these things for an extra entry. Make sure to leave a separate comment for EACH thing you do.
1- Follow me on twitter.
2- Tweet about this giveaway.
You can Tweet once a day for an extra entry every day!
You can copy and paste:
Win a Picture Keeper @twoofakind http://tinyurl.com/n99jmg
2- For TWO extra entries, blog about this giveaway and link it back to this post and
Picture Keeper
!
3- Place my green Two Of A Kind, Working On A Full House button on your blog.
4- Follow my blog.
5- For TWO extra entries, Subscribe to my blog via email.
6- For FIVE extra entries, purchase any product from
Picture Keeper
before the end of this giveaway.
Contest ends at 11:59pm EST on June 29th when I will draw a winner at random. PLEASE leave your email address if it is not visible on your profile. I will notify the winner will have 36 hours to respond!
Open to US Only.