I've never had a really good vacuum cleaner. Sure, the ones that I have pick up MOST of the dirt from my carpet, but even though the surface looks pretty clean, they're not getting it all!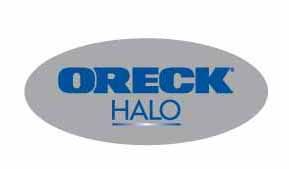 The new
Oreck Halo
not only vacuums up dirt and debris, it also has a UV-C light chamber that kills many microscopic germs, bacteria, viruses, mold, dust mite eggs, and flee eggs. Carpet and floors will be clean and nearly free of germs without using any harsh chemicals.
Oreck Halo Features:
-Upright
-Weighs 17 Pounds
-HEPA 13 Filter Bag
-UV-C Germicidal Light
-3 Year Warranty on Vacuum
-5 Year Warranty on UV-C Light Bulb
-More powerful, yet quieter motor
-Easily serviced at 450 Oreck stores
-Extended Warranty includes 3 tune ups
-Self-Sealing bag dock to reduce dust when changing bag
It is pretty gross to think of all of the bacteria that is living on my floor. I learned that carpet can contain approximately 200,000 microbes of bacteria per square inch and as many as 100,000 dust mites per square yard! The bathroom floor has 18,025 bacteria per square inch. My son stays home with me, so these floors are what he's playing on!
Dr. George P. Gerba, Ph.D. conducted multiple tests on the Oreck Halo UV-C Technology using bacteria, fungi, viruses, and other pathogens. The tests proved that Oreck Halo kills more than 99% of common types of germs. These petri dishes show how after routine cleanings, the Oreck Halo can help reduce dust mite population, harmful bacteria, and viruses on floors.
The Oreck Halo uses a Hepa 13 filter bag that creates a nearly impenetrable wall. The fiber is so tightly woven that dead germs, bacteria, viruses, allergens, and mold stay inside while the Sani-Seal tab keep dust and debris from escaping.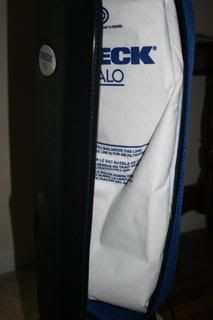 Oreck sent me the
Oreck Halo
to test on my floors. My husband happened to be home when the package arrived and we opened it up right away!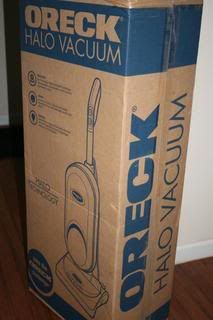 Even though the Oreck Halo does so much more than regular vacuums, it is still really simply to use.
-Turn it on with the button on the handle. I love that I don't have to lean over and flip a switch near the bottom.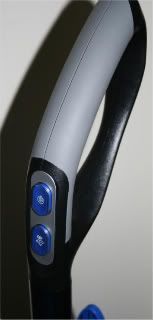 -set the carpet height on the side of the vacuum. It will be saved for every other time that it is used.
-Press the foot lever to incline the handle.
-Hold the trigger in the handle to activate the UV-C light. The logo on the the front of the vacuum will light up indicating that it is working.
-Use the vacuum as you normally would.
We could tell that the
vacuum
was picking up dirt and debris exceptionally well. We were paying close attention and it left nothing behind. We could also rest assure that it was reducing the amount of bacteria, germs, and other microorganisms on our carpet.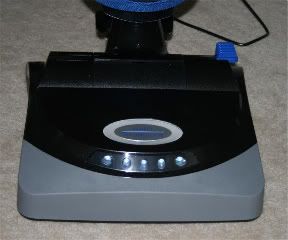 My old vacuum only picks up dirt on carpet. When I would try and use it on my kitchen or hall floors, it would blow the dirt all over. The Oreck Halo has an option where you can turn the Brushroll off! We took it into our hallway and were immediately impressed with how well it was cleaning. It picked up EVERY speck of debris that we could see!
The
Oreck Halo
also has a hose and brush attachment that can reach 13 feet. These aid in getting into those hard to reach places. It has a powerful suction that had my steps free of dirt in a matter of minutes!
My husband and I both feel better now that we use the Oreck Halo. Not only do we have a toddler that plays on the floor all day, but before we know it, we'll have another baby rolling around. With this vacuum, I can rest easy that I'm doing everything that I possibly can to keep my children clean and healthy while playing on our floors.
Buy It!
You can purchase the
Oreck Halo
for $599.95.
WIN IT!!!
Oreck is giving one of my readers their own Oreck Halo!!!
To enter, visit
Oreck
and tell me another product that they carry.
This is required and must be done before the extra entries count!EXTRA ENTRIES!
You can do any of these things for an extra entry. Make sure to leave a separate comment for EACH thing you do.
1- Follow me on twitter AND Tweet about this giveaway.
You must do both for the extra entry to count.
You can copy and paste:
Oreck Halo Vacuum Giveaway @twoofakind valued at $600 http://tinyurl.com/mggqrh
2- For TWO extra entries, blog about this giveaway and link it back to this post and
Oreck
!
3- Place my green Two Of A Kind, Working On A Full House button on your blog.
4- Follow my blog.
5- For TWO extra entries, Subscribe to my blog via email.
6- For FIVE extra entries, purchase any product from
Oreck
before the end of this giveaway.
Contest ends at 11:59pm EST on June 29th when I will draw a winner at random. PLEASE leave your email address if it is not visible on your profile. I will notify the winner will have 36 hours to respond!
Open to US Only.