We spend all summer in the water. It is HOT here and we are always in the pool, lake, or beach. As you all know, you can't use regular disposable diapers in the water because they will expand and bust. Instead, you have to purchase packs of those expensive disposable swim diapers. I had no clue that there was another option!

New & Green Baby Co.
introduced me to
Swimmi Swim Cloth Diapers
AND
Monkey Doodlez Tote Wet Bags
! This is the first swim diaper and wet bag that I've tried.
New & Green Baby Co. is Vancouver's first online store where you can find everything you need to be successful at cloth diapering. The owners have personally tested everything that they carry on their daughter, Ella. They are dedicated to bringing the best of the best in cloth choices to you. They are always eager to talk to you and help you decide what works best for your needs.
They sent me the the Swimmi Reusable Swim Diaper in the Turtle pattern. I was so excited to try the
Cloth Swim Diaper
that I can reuse instead of the disposable ones. Not only are they cuter than the disposable ones, but it has an adjustable aplix closure for a snug fit. Evan is a skinny little man and the disposable swim diapers were never tight enough!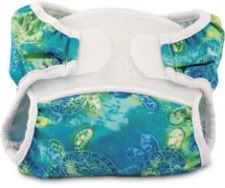 They come in three sizes-SM(9-15 lbs), Med (15-22 lbs), and Lg(22-30 lbs). The inside is polyester mesh which makes for easy clean ups and unlike regular cloth diapers, nothing other than the cover is required inside the diaper. The coated nylon layer will hold messes so the diaper stays trim.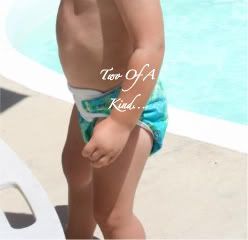 I've used the diaper about 15 times and he still hasn't pooped in it. I still don't know how well it will hold that in, but it is supposed to stay in place with help from the nylon layer. When he tinkles, it will come out when he sits down or moves the elastic away from his leg. Like any other swim diaper, there is nothing inside to expand and catch the liquid.
One of these diapers cost about the same as a pack of the disposable ones. If you are in the water as much as we are, it will pay for itself in a week or so! They're also MUCH cuter and I often just let him run around in the Swimmi without any swim trunks on when we are at home and at the lake.
I was also sent the
Monkey Doodlez Tote Bag
to put my cloth diapers in when I'm out and about. I haven't used cloth with Evan while I'm out so I have never used a wet bag. Now, I take it with me to the lake and beach to put his Swimmi and trunks in when he's done swimming. I also plan on only using cloth with my daughter, so I will get tons of use out of this.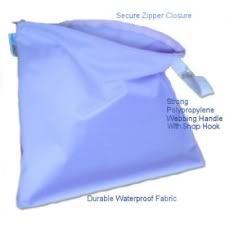 The Monkey Doodlez Wet Bags are 14" x 14" and are made to hold a full day's diapers, swim wear, toys, shoes, and more. You don't have to only use it with wet cloth diapers, it can be used for anything that you need to tote around. The fabric is made using 2 layers of durable polyester interlock with the waterproof laminate bonded in between. The strong polypropylene webbing handle has a snap hook so you can attach it to your stroller or diaper bag.
I think the size is perfect. It's big enough to hold everything that I want, but not so big that it takes up too much space. I think having the handle where it can attach to other things is genius! I can't stand digging around trying to find my things and like having it secured where I need it. The colors are neutral and can be used for my babies and anything else we need!
New & Green Baby Co. has many different cloth diapers and accessories. They are the first online store in Vancouver so they specifically cater to Canadians. You'll have to visit their website to see everything that they have to offer!
Buy It!
The
Swimmi Reusable Swim Diaper
is $13.49 and the
Monkey Doodlez Tote Wet Bag
is $18.
WIN IT!!!
New & Green is giving away a swim diaper to one of my readers!
Giveaway is open to Canada ONLY!
To enter, visit
New & Green Baby Co.
and tell me what else you'd like to add to your cloth diaper stash!
This is required and must be done before the extra entries count!EXTRA ENTRIES!
You can do any of these things for an extra entry. Make sure to leave a separate comment for EACH thing you do.
1- For TWO extra entries, Subscribe to my blog via email.
2- For TWO extra entries, blog about this giveaway and link it back to this post and
New & Green Baby Co.
!
3- Follow me on twitter.
4- Follow New & Green Baby on twitter,
HERE
.
5- Tweet about this giveaway.
You can Tweet once a day for an extra entry every day!
You can copy and paste:
Cloth Swim Diaper Giveaway @twoofakind http://bit.ly/EKvp3 Open to Canada ONLY! #clothdiapers
6- Become a fan of New & Green Baby Co. on Facebook,
HERE
.
7- Follow my blog.
8- For FIVE extra entries, purchase any product from
New & Green Baby Co.
before the end of the giveaway.
Contest ends at 11:59pm EST on July 6th when I will draw a winner at random. PLEASE leave your email address if it is not visible on your profile. I will notify the winner will have 36 hours to respond!
Open to Canada addresses Only!