I'm not exactly what you would call a "trendy mom". I like fashion, I just don't always have the time for it. Even though I'm not always up to date on the latest trends, I do know what I like.

I was recently introduced to
Isabella Oliver
. I wish I had found out about them earlier in my pregnancy because they have the cutest
maternity clothes
! They also have their
365 collection
that is designed for non-pregnant women.
Isabella Oliver is a British online fashion designer that is based in London and known for dressing pregnant celebrities such as Anglina Jolie! They started out with maternity clothes to flatter a woman's figure in every stage of pregnancy. Later, they launched the Isabella Oliver 365 collection for non-pregnant woment. The collection contains multiple items to make a woman feel beautiful and sexy throughout the day!
They sent me their
Ruffle Wrap Maternity Dress
.
It is such a great dress! The wrap allows the dress to grow with you and make you look amazing as your belly grows. The ruffles add to the dress giving it a more flirty look. It comes in 4 great colors so that you can choose which one fits your personality the best!
I haven't had a chance to wear it out yet, but I plan on wearing it this weekend. It's still a little wrinkled from being shipped so I have to iron it and then I'll post a picture of me in it. My mom and I both thought it was the most adorable maternity dress we've ever seen! I feel like a cow in most of my maternity clothes, but I actually feel sexy and confident in this dress.
I wish that I had found out about them earlier in my pregnancy because I want the whole collection. Every outfit looks amazingly slimming and sexy. Even as I get HUGE, I think that Isabella Oliver would make me feel better about myself!
After I have the baby and get my figure back, I would love to have a shopping spree for their 365 collection! Just look how amazing their clothes look! This collection would definately give you an extra boost of confindence.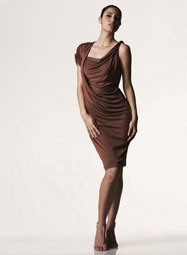 I wanted to make sure that I posted this now so that I could tell you about their sale!
You can save 25% off of their 365 collection through June 14th if you use the code 'SALE25'
. The code only applies to selected items.
Buy It
You can purchase the
Ruffle Wrap Maternity Dress
for $175.
You can use the code SUMMER to get 25% off of this dress and many of their other maternity clothes until June 14th.