My mom told me years ago that I needed to make sure that I took care of my skin. If left neglected, my skin could age well before it should. On Sunday, I'll be 24 and have been very proactive about using products to help my face. Sometimes, my skin stops reacting to the same skin care regiment after using it for a while.

Corrective Skin Care
recognized that after a while, skin care regiments need to be switched up to retain optimal results. They have addressed this need with the Skinercise which are products in different strengths and different programs to provide consistent effectiveness. All of their products are hand formulated with the highest quality ingredients in a FDA approved lab. Corrective Skin Care always goes with natural which is the same as Chirally Correct.
Corrective Skin Care
sent me these four products to test.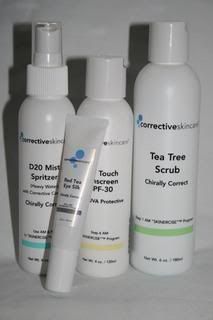 My skin is more on the dry side. Some days I feel like I can never have enough moisturizer on my face and these products have really helped my makeup go on more smooth!
Tee Tree Scrub
The
Tea Tree Scrub
is meant for normal to dry skin and works well with acne and rosacea. The Scrub is anti bacterial, anti-inflammatory, accelerates healing of skin disorders, penetrates skin quickly, natural preservative antiseptic and germicidal. Focus Ingredients include: Tea Tree Oil, Totarol, and Peppermint Oil that work together to do the things listed above.
It is suggested that you use this in the morning to exfoliate dead skin. I have used it this week as part of my morning routine and can really tell the difference. It has a great smell and I can feel it cleansing and soothing my skin. Sometimes my skin is too dry to put my makeup on because it makes my dry skin look even worse. After I've used this, my make up goes on and looks smooth and natural.
D20 Mist Spritzer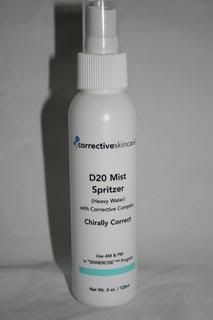 The
D20 Mist Spritzer
is great for all skin types and gives your skin a burst of hydration with D20. D20 is water that contains twice the hydrogen of normal water to lock in moisture and provide an extra barrier against radiation.
I spray this on my face after using the Scrub. It makes my skin look more moisturized and I love that it provides even more protection. It has a very pleasant smell and when I use it, it makes me feel like I'm on vacation at the beach! Later in the day I can spritz it on my face if I need a revitalizing look. I haven't needed to do that yet, but I feel sure that I will while I'm at the beach this summer.
Red Tea Eye Silk
The
Red Tea Eye Silk
is a new item that is mean for all skin types. It is extremely moisturizing and has anti-aging benefits. Focus ingredients include: Gamma amino Butyric Acid, Pueraria Mirifica Extract, Palmitoyl Oligopeptide, and Palmitoyl Tetrapeptide. These ingredients work together to even out skin discolorations, reduce wrinkle depth, encourage production of collagen, and prevent new wrinkle formation.
I have been using this both at morning and at night. Women always say their eyes are one of the first places that they notice wrinkles. I just place it around my eyes and the skin feels moisturized. Even my fingers that I use to apply it feel smooth! I feel like the Red Tea Eye Silk is helping fight off any unnecessary wrinkles and will keep my skin looking better.
Dry Touch Sunscreen SPF-30
The
Dry Touch Sunscreen
is for oily or combination skin types. It is meant to moisturize and give your skin a non-greasy protection. It is available in tinted or non-tinted formulas. Active ingredients include: Ethylhexyl Methoxycinnamate, Ethylhexyl Salicylate, Octocrylene, and Butyl Methoxydibenzolmethane. These ingredients work together to provide UVB blockers and protect against longer UVA rays.
I put this on over my regular moisturizer 30 minutes before sun exposure. If I'm going to continuously be in the sun, I reapply hourly to keep my skin protected. Like the other products, it also has a pleasant smell that is not overwhelming. I have been in the sun a lot this past week and my face has not burnt at all. I like knowing that my skin has an extra barrier to keep harmful rays away. Sun is one of the most damaging things to your skin and I want to keep mine protected. I know that using this on top of my other products, my skin will have maximum UVB/UVA protection.
After using these products over the past week, I really feel like my skin has benefited. I will continue this same regiment until I see that my skin is not reacting as it should and I know its time to change my routine.
I am excited about the products at Corrective Skin Care and there is so much on my wish list. I would love to try their cosmetics as well. I'm sure that they are as wonderful as the products that I've tested out and would continue to help me be proactive with my skin care routine.
I love that they have an
Online Skin Advisor
that you can use to find out what products would be best for you. It asks several questions to pinpoint exactly what you need. Their products are also color coded and can be viewed by clicking on
what type of skin
you're trying to fix.
Buy It!
You can purchase the
Tea Tree Scrub
for $35, The
D20 Mist Spritzer
for $27, The
Red Tea Eye Silk
for $50, and the
Dry Touch Sunscreen
for $27.
WIN IT!!!
Corrective Skin Care is giving THREE of my winners a bottle of Tea Tree Scrub!!
To enter, visit
Corrective Skin Care
and tell me another product that you'd love to try!
This is required and must be done before the extra entries count!EXTRA ENTRIES!
You can do any of these things for an extra entry. Make sure to leave a separate comment for EACH thing you do.
1- Follow me on twitter,
HERE
.
2- Follow Corrective Skin Care on twitter,
HERE
.
3- Tweet about this giveaway.
You can tweet everyday for one extra entry each day!
You can copy and paste:
Win Tea Tree Scrub-THREE WINNERS @twoofakind http://tinyurl.com/qedn5r
4- For TWO extra entries, blog about this giveaway and link it back to this post and
Corrective Skin Care
!
5- Place my green Two Of A Kind, Working On A Full House button on your blog.
6- Follow my blog.
7- Subscribe to my blog via email.
8- Become a fan of Corrective Skin Care on
Facebook
.
9- For FIVE extra entries, Purchase anything from
Corrective Skin Care
before the end of this giveaway!
Contest ends at 11:59pm EST on June 19th when I will draw three winners at random. PLEASE leave your email address if it is not visible on your profile. I will notify the winner will have 36 hours to respond!
Open to US Only.