I admit it, I LOVE Chocolate. It is a huge weakness for me. I could sit down and eat a whole bag of sweets before I know it. I do my best have self control, but sometimes it is hard!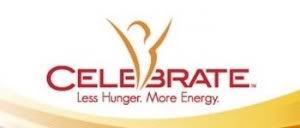 Celebrate Chocolates
has created a way to satisfy your hunger with chocolate. This sounds like my sort of plan! The idea is to eat 1-2 pieces of their chocolate about 20 minutes before meals and you will be more full. If you eat the Celebrate Chocolate before meals, your body is fed and not craving so you are more likely to eat less.
Thanks to
Celebrate Chocolate
and The
Family Review Network
, I was able to try the Classics Truffles and Cocoa Almonds pack and the Creations Exquisite Truffles pack.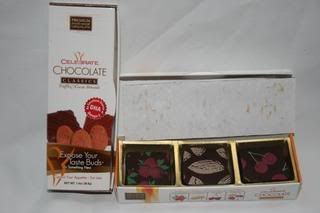 The first pack had the chocolate almonds and classic truffles pictured below. They were absolutely delicious! My favorite had to be the
almonds
. It was hard to only eat 1-2 of them, but I savored each bite and waited 20 minutes until I ate. I really do think that I ate a little less. I paid more attention to what I was eating and I had already had the Chocolates so I was able to focus on my meal.
Next I tried the Creations Exquisite Truffles with the Raspberry, Almond, and Cherry that is in the first picture. I normally don't like fruit mixed in with my chocolates, but I did enjoy these. They all tasted similar, but had small bits of the selected fruit or almond that added to it. I was able to eat only one of these at a time and it helped me to enjoy each piece.
I admit that I was really skeptical about being able to eat less by just having 1-2 chocolates before each meal, but I was wrong. I think I was more satisfied because I really wanted the chocolates and made sure that I savored each bite. Later, with lunch or dinner, I was able to enjoy the meal and knew when I was full.
Win It!!!
Celebrate Chocolates is giving one of my readers some chocolate.
To enter, visit
Celebrate Chocolates
and tell me something you'd like to try!
This is required and must be done before the extra entries count!EXTRA ENTRIES!
You can do any of these things for an extra entry. Make sure to leave a separate comment for EACH thing you do.
1- Follow me on twitter,
HERE
.
2- Tweet about this giveaway.
You can tweet everyday for one extra entry each day!
You can copy and paste:
Chocolate Giveaway @twoofakind http://tinyurl.com/purwsu ends 6/11
3- For TWO extra entries, blog about this giveaway and link it back to this post and
Celebrate Chocolates
!
4- Add my green Two Of A Kind button to your blog.
5- Follow my blog.
6- Subscribe to my blog via email.
7- For FIVE extra entries, Purchase anything from
Celebrate Chocolates
before the end of this giveaway!
Contest ends at 11:59pm EST on June 11th when I will draw a winner at random. PLEASE leave your email address if it is not visible on your profile. I will notify the winner will have 36 hours to respond!
Open to US only!