Men often get left out when it comes to pregnancy. It's all about the woman and the baby which leaves Dad in the dark. The pregnant mom usually has no clue what Dad is thinking or going through and vice versa.
Being Dad
is a DVD that features dozens of dads who share all of their thoughts and fears. It is designed for couples to watch together so they both see what they're going through and what the other is feeling. The DVD is 77 minutes long and can be purchased at most places such as Barnes And Nobles for $29.99.
Being Dad 2
came out in May and is all about what to expect AFTER the baby gets here. It follows different Dads as they journey through those first few months and then the toddler stages. It tells them what they can look forward to and lets them know that they are not alone.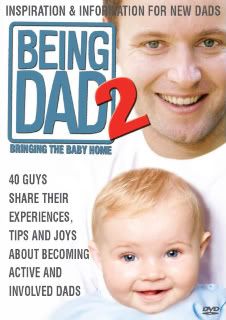 We were sent Being Dad and a preview of Being Dad 2 to watch. We're pregnant with our second baby, but I wish that we had this DVD with our first. There is so much that we're both thinking and just don't talk about.
We sat through these DVDs and laughed as we remembered everything that we went through with our first. Even though we've been through it all, they still gave us insight to each other that we still hadn't uncovered.
I think these DVDs are a great bonding experience and every new parent should watch them with their partner. You don't even have to watch them all at once and it is much easier than getting him to sit and read one of those Dad books. Lets face it, most men are not going to read those books but they will sit and watch parts of a DVD.
It really opens up the lines of communication and makes it so both new parents know what the other is going through and can be more sensitive to their feelings.
Buy It!
If you buy them on the
Being Dad website
, you can use the code
THANKS20 to get 20%
off of your purchase!