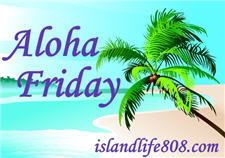 It's Aloha Friday over at
An Island Life
! Answer my question and make sure you post one on your blog! After that, go relax because today is Friday!!
My question for this week is:
Do you remember your dreams?
I once read somewhere that everyone has dreams, some people just don't remember them. I remember some of mine-at least 1-2 a night. Sometimes I wish I didn't because I can have some crazy dreams-especially while I'm pregnant. Hubby, on the other hand, almost never remembers his dreams.