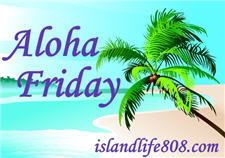 It's Aloha Friday over at
An Island Life
! Answer my question and make sure you post one on your blog! After that, go relax because today is Friday!!
My question for this week is:
Do you drink coffee? What do you put in it-or do you like it black?
I love drinking coffee with my breakfast and I make it every day-but I really don't drink much at all. Hubby always says there is no point in me making it when he's not here because I only drink about half a cup or so. I put Chocolate/Caramel International Delight creamer in there and that is it.