I try to limit our sun exposure, but we are outside all the time during the summer. We stay active in the pool, lake, or at the beach. I'm always looking for ways to protect my son's skin.

Tuga Sunwear
sent me a
Sun Protective Boy's MaxOut 2Pc Set
. This is the first time we've had sun protective clothing. I thought I was doing enough by lathering him up with sunscreen and occasionally putting a T-shirt on him. With this outfit, I know that he is protected.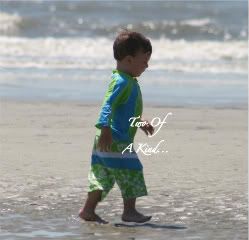 Tuga Sunwear
is dedicated to educating parents and kids on safe sun habits. They want to provide ways that will protect your skin from the sun, but still allow you to look stylish. They are determined to make children WANT to wear their sun protective clothing. With the "cool" styles that they carry, kids will want to choose Tuga Sunwear over just any swim suit.
The fabric used to make Tuga's Sunwear meets the 50+ UPF standards blocking 97.5% of UV rays. The MaxOut set that we received is made from high quality tested fabric that is proven to protect all day long. The material is light and dries fast so he isn't running around in a wet heavy shirt at the pool and beach.
Tuga wants everyone to know that by developing these 5 sun safety habits early in life, you can prevent skin cancer.
- Use SPF 15+ sunscreen
- Wear sun protection clothing
- Protect the eyes with UV400 sunglasses
- Cover the head ears neck and face with a sun protection hat
- Reduce time spent in the sun from 10am to 4pm.
We took Evan's new outfit to the beach this weekend and put it to the test. I asked to get one in 2T even though I knew it would be a little large on him because being too big is better than being too small. We rolled up the sleeves just a little and it was fine!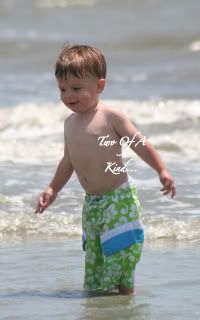 I lathered him up with sunscreen and let him run around without the shirt for a little while. Eventually, I put the shirt on him and he kept it on the rest of the day.
I was really worried that he may get too much sun because he is really light. I've done a great job so far this summer with keeping his skin covered up with lotion and clothing. At the end of the day, you could barely tell that he had been in the sun!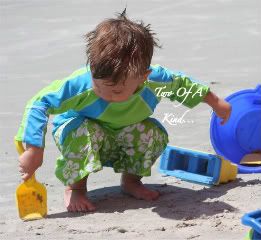 It worked so well that I washed it that night and he wore it all day on Saturday as well. An elderly couple even stopped and commented on how great they thought it was that we had him covered. She said that she was impressed with how cute his Sunwear was and loved that we had his top covered.
He wore it all weekend and he hardly got any sun at all! Tuga did what it was meant to do with our son and kept his skin protected. However, my husband did leave the beach with a little sunburn. I'm going to look into getting Sunwear for us!
Buy It!
Tuga
offers many different styles at a variety of prices. The MaxOut that we got is $47.
Tuga is giving my readers 20% off all their products(except sale items) if you use the code TWOOFAKIND at checkout!WIN IT!!!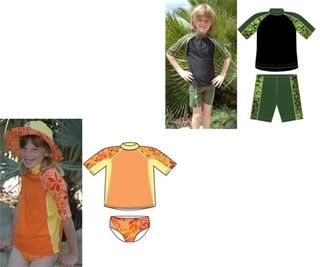 Tuga is giving a children's outfit to one of my readers! The winner can choose either this girl or boy outfit in sizes 1-6yrs, or sm, m, l, xl.
To enter, visit
Tuga
and tell me another outfit that you like!
This is required and must be done before the extra entries count!EXTRA ENTRIES!
You can do any of these things for an extra entry. Make sure to leave a separate comment for EACH thing you do.
1- For TWO extra entries, subscribe to my blog via email.
2- Follow my blog.
3- Follow me on twitter,
HERE
.
5- Place my regular Two Of A Kind, Working On A Full House button on your blog.
5- For Unlimited extra entries, tweet about this giveaway.
You can tweet about this giveaway once a day for an extra entry every day!!
You can copy and paste:
Win sunwear for your child from Tuga @twoofakind http://tinyurl.com/qx8t4d
6- For TWO extra entries, blog about this giveaway and link it back to this post and
Tuga
.
7- For FIVE extra entries, purchase anything from
Tuga
before the end of this giveaway.
Tuga is giving my readers 20% off all their products(except sale items) if you use the code TWOOFAKIND at checkout!
Contest ends at 11:59pm EST on May 25th when I will draw a winner at random. PLEASE leave your email address if it is not visible on your profile. I will notify the winner will have 36 hours to respond!
Open to Us Only