When my son began to crawl, I had to start cleaning the floors everyday. For a while he wanted to put everything in his mouth, now he just spills everything all over my floors. Toddlers create big messes that require constant cleaning.

One of my new favorite "cleaning toys" is the
Steamboy T1 Steam Floor Mop
by Reliable. The Steamboy actually makes it where I don't mind cleaning up his messes as much.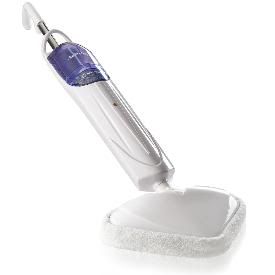 This is another way that we are able to "go green". We don't have to use any chemicals and our floors are even cleaner than when we used them. I will never go back to using my mop. I was always worried about leaving any of the chemicals behind for my baby to crawl through and then put in his mouth.
The Steamboy T1 cleans floors that are tiled, sealed hardwood, carpeted, or ceramic! You simply plug it in and steam starts billowing out, ready to sanitize and clean your floor.
Features
- Steam starts immediately - No waiting
- Powerful 1500W heating element
- 180º swivel head to get into tight spaces and under furniture
- 11" cleaning path with swivel head
- 3.3 cup water capacity
- 30 minutes continuous steam
- Ergonomically designed handle to reduce hand and wrist stress
- 16' electrical cord with wrap around feature
- 2 washable microfiber cloth pads
- 1 water filter
- 1 carpet glide
- only 8 pounds
Reliable
sent me the Steamboy T1 a few weeks ago and we immediately put it to the test.
It took my husband all of 5 minutes to have it completely together and ready to go. I made sure our floors were swept and vacuumed. After that was done, we filled it with water, plugged it in and started using it. Within 2-3 seconds, steam was coming out from the bottom and I knew it was working.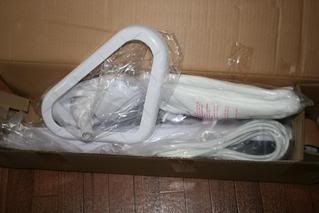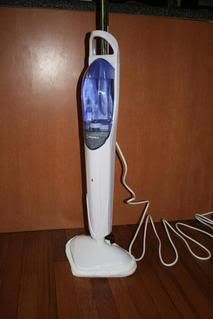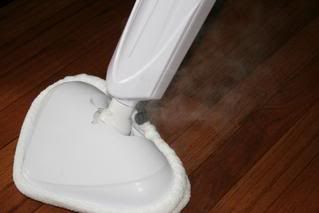 I had mopped my floors just 2 days earlier and I really didn't think it would have much to clean-I was wrong. This picked up what my mop didn't. Isn't that gross?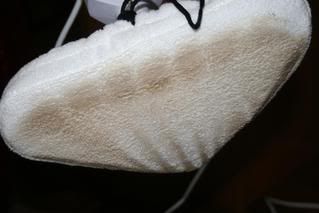 I was anxious to move on to my carpets to see what it would do. We have juice stains on my carpet, but we haven't cleaned them because it takes 1-2 days before you can go back into that room.
To use on the carpet, you simply put the carpet glide on the head of the Steamboy T1 and start cleaning. I was AMAZED that it was actually cleaning those juice stains. We ran the Steamboy over the stain 5-6 times and couldn't really see the stain at all anymore. In some spots you couldn't see the stains at all!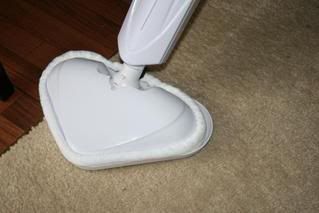 I couldn't be more pleased with the Steamboy T1! It obviously picks up what my mop hadn't and it even reduces, if not removes those awful juice stains.
Toddlers come with big messes, but the Steamboy makes it so much easier to clean them! With another baby on the way, I feel more comfortable having her crawl around on my floors because I know that they will sanitized.
Buy It!
You can purchase the
Steamboy T1 Steam Floor Mop
is $99.
WIN IT!!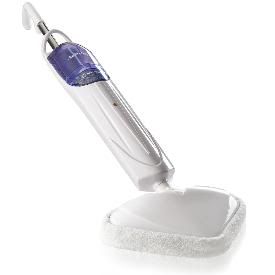 Reliable is giving a Steamboy T1 Steam Floor Mop to one of my readers!
To enter, visit
Reliable
and tell me another item that they carry.
This is required and must be done before the extra entries count!EXTRA ENTRIES!
You can do any of these things for an extra entry. Make sure to leave a separate comment for EACH thing you do.
1- For TWO extra entries, blog about this giveaway and link it back to this post AND
Reliable
.
2- Follow my blog. Go over to my right sidebar and click on Follow This Blog! Current followers count too! Leave me a comment letting me know that you do!
3- For TWO extra entries, subscribe to my blog via email.
4- Follow me on twitter AND tweet about this giveaway. Please leave me the link in your comment to your tweet. Just following me does not count-you MUST tweet about this giveaway.
You can copy and paste: Win a Reliable Steamboy T1 Steam Mop @twoofakind http://tinyurl.com/cep587 Open to US and Canada!
5- For FIVE extra entries, purchase anything from
Reliable
before the end of this giveaway.
6- Favorite my blog on Technorati. Leave me your user name in your comment.
7- Enter the
Jillie Willie Apron Giveaway
and let me know that you did!
Contest ends at 11:59pm EST on May 15th when I will draw a winner at random. PLEASE leave your email address if it is not visible on your profile. I will notify the winner will have 36 hours to respond!
Open to the continental Us And Canada