All moms have been through a stage where they just felt fat instead of pregnant. For the first 4-5 months of pregnancy, you want to walk around with a big sign that says,"I'm pregnant, not fat".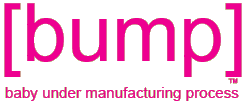 Renae felt that way when she first became pregnant. She wanted to scream to the world that she was not just letting herself go. Renae's
[bump]
designs caught on quickly because pregnant women everywhere can relate to her humorous approach.
They sent me my own
[bump] shirt
. For those of you that don't know, [bump] stands for baby under manufacturing process. Here I am with my shirt about a week ago(28 weeks pregnant).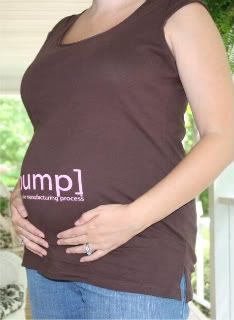 I've been able to wear my shirt many times now and I always get smiles. Countless women have come up to me telling me that they wish they would have had a shirt like this when they were pregnant. This shirt is extremely comfortable and has held up amazingly well through many washings!
I normally wear a medium in maternity clothes and was a little worried when I was sent the L/XL. There are two sizes, S/M and L/XL. The L/XL fit me perfectly! They have this shirt available in black/white and then pink for girl and blue for boy!
They even have a post [bump] shirt that totally cracks me up! Don't worry, Daddy was not left out. I'm loving this sympathy [bump] shirt.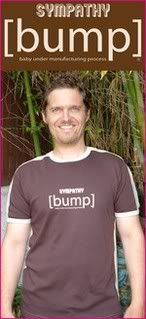 They have so much more to offer. You have to go check out the
[bump] website
!
Buy It
You can purchase this
[bump] T-shirt
for $42!
BUMP is offering my readers 10% off! Just use the code TOAK10 at checkout!