Over the years, I have accumulated a large amount of jewelry. Even though I have many to choose from, there are a few pieces that I wear almost every day. I love wearing jewelry that has sentimental value to me.
Emmie Kate
has personalized jewelry that will melt your heart. The owner, Maquel, was inspired to start this website because of her daughter, Kate, and her niece, Emmie. Emmie and Kate were born just weeks apart and shared a special bond from the beginning. While searching for quality jewelry for Kate(and not being able to find much), she came up with the idea to craft jewelry that was solid and lasting-just like the relationship between Emmie and Kate.
All
Emmie Kate
jewelry is made from sterling silver and many can be personalized. They also feature jewelry and accessories from other talented silversmiths from all over the country. Maquel created this website with the hope that one day Emmie Kate jewelry would become treasured heirlooms to always remind you of that special time with your children.
Maquel sent me the
Emmie Kate Sterling Silver Mother's Little Ones Bracelet
engraved with my children's names on it. Isn't it beautiful?
The Mother's Little Ones Bracelet allows you to customize a classic bracelet with your children's names. The price includes two names with 5 letters each and can be separated by a heart or star. Each additional letter or symbol will be $0.50. A limit of 18 characters can fit on the bracelet. It is 8mm wide and 13.5cm long.
I almost never wear bracelets. My wrist is really small and most bracelets just fall off or look way too big on me. I LOVE the Emmie Kate bracelet because I can make it as small as I need. I think it is great that this bracelet can easily be adjusted to fit a smaller or larger wrist-simply pull the sides apart or push them closer together.
Since it has a simple, classic look, I can wear it with anything! I have worn this bracelet every time that I have gone out in the past few weeks and I couldn't be more pleased! It is so light that I barely even know I'm wearing it, then when I look down, it brings a smile to my face. The Mother's Little Ones Bracelet is a great way to carry your children around with you.
I can't even begin to tell you about all of the other pieces that Emmie Kate carries! There is everything from baby bracelets to sterling silver photo letter openers.
I love this
Script ID Bracelet
. It can be made for babies or adults so you can have one to match your child, or get matching ones for your little girls!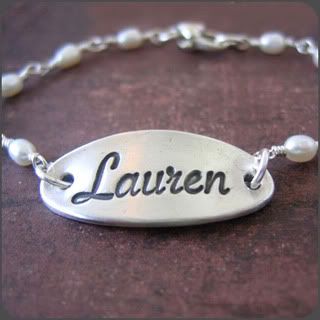 Isn't this
Oval Engraved Monogram Ring
fantastic?
They even have amazing silver accents for the men in your life! These
Square Photo Cuff links
are magnificent!
With
Emmie Kate
, you can find sentimental heirlooms for everyone in your life! These sterling silver items can be passed down for years to come.
Buy It!
You can purchase the
Emmie Kate Sterling Silver Mother's Little Ones Bracelet
for $50.
WIN IT!!
Maquel is giving one of my readers a Mother's Little One Bracelet!
To enter, visit
Emmie Kate
and tell me another item that they have.
This is required and must be done before the extra entries count!EXTRA ENTRIES!
You can do any of these things for an extra entry. Make sure to leave a separate comment for EACH thing you do.
1- For TWO extra entries, blog about this giveaway and link it back to my blog AND
Emmie Kate
!
2- Follow my blog. Go over to my right sidebar and click on Follow This Blog! Current followers count too! Leave me a comment letting me know that you do!
3- For TWO extra entries, subscribe to my blog via email.
4- Follow me on twitter AND tweet about this giveaway. Please leave me the link in your comment to your tweet. Just following me does not count-you MUST tweet about this giveaway.
You can copy and paste: WIN a Sterling Silver Mother's Bracelet @twoofakind open to US AND Canada! http://tinyurl.com/cjhket

5- For TEN extra entries, purchase anything from
Emmie Kate
before the end of this giveaway.
6- Enter the
HotWyre Jewelry Giveaway
and let me know that you did!
Contest ends at 11:59pm EST on May 18th when I will draw a winner at random. PLEASE leave your email address if it is not visible on your profile. I will notify the winner will have 36 hours to respond!
Open to Us AND Canada!