My favorite kind of toys are educational ones. I want it to be fun and keep his interest, but I also want him to learn something when playing. Every day we sit down and play with toys that teach him shapes, colors, animal sounds, and many other things.

Recently, Keri introduced me to
Discovery Toys
. She sent us the
Hammer Away!
toy for my son.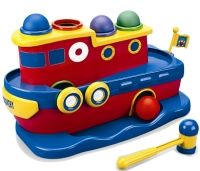 Discovery Toys agrees with me and wants to make toys where parents will want to play with their children and help them learn. They have even partnered with the Princeton Child Development Institute to develop their Autism Support Project and have a charting system that can help choose toys to work specifically in the areas needed. Their toys come with a 100% satisfaction guarantee so you never feel trapped with any product. Discovery Toys is also doing their part to be environmentally friendly and make their packaging using 100% biodegradable materials.
The
Hammer Away
has been Evan's favorite toy since we opened the box a few days ago. He is completely intrigued with the balls falling down and going through the holes. He sits down and plays with the Hammer Away for 30 minutes to an hour at a time! Even when he's not playing with the ship, he's rolling the balls around the house.
It is teaching him hand-eye coordination and cause-and-effect concepts. The balls are also different colors and the opening of each hole is the same color as each of the balls. He's learning to match the color of the ball with the hole it is supposed to go in. We've sat down several times over the past few days and talked about what each color is as we line them up in the holes.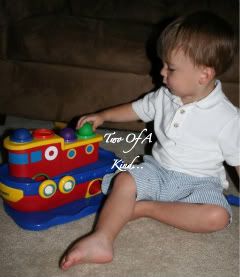 With the Hammer Away being meant for children 19 months-Preschool, I know that he will not be outgrowing it anytime soon. What toddler doesn't love hitting things with a hammer? They will have an outlet for some of their energy while learning different skills.
If you think this toy sounds great, you should check out all of the
other toys
and books that Discovery Toys has to offer!
Keri will also help you throw a Discovery Toys party. You can earn FREE toys if your party sales reach $100. You can use even use Skype to host your party. You can learn more on Keri's website.
Buy It!
You can purchase the
Hammer Away
for $28.
WIN IT!!!
Keri is giving a Hammer Away! toy to one of my readers!
To enter, visit
Discovery Toys
and tell me another item that they carry.
This is required and must be done before the extra entries count!EXTRA ENTRIES!
You can do any of these things for an extra entry. Make sure to leave a separate comment for EACH thing you do.
1- For TWO extra entries, subscribe to my blog via email.
2- Follow my blog.
3- Follow me on twitter,
HERE
.
4- Follow Keri on Twitter,
HERE
.
5- For Unlimited extra entries, tweet about this giveaway.
You can tweet about this giveaway once a day for an extra entry every day!!
You can copy and paste:
Win a Hammer Away! from Discovery Toys @twoofakind http://tinyurl.com/opow9m
6- For TWO extra entries, blog about this giveaway and link it back to this post and
Discovery Toys
.
7- Join her group on Facebook,
HERE
.
8- For FIVE extra entries, purchase anything from
Discovery Toys
before the end of this giveaway.
Contest ends at 11:59pm EST on June 1st when I will draw a winner at random. PLEASE leave your email address if it is not visible on your profile. I will notify the winner will have 36 hours to respond!
Open to US Only