With my first pregnancy, I worked all the time and wore mostly suits. I dressed way too frumpy and didn't really have any cute maternity clothes to wear. My self esteem also took a hit and I just felt huge.

With this pregnancy, I decided I didn't want to be frumpy, I wanted to dress stylish.
Boob Maternity
definately has some stylish clothes!
Boob
was born when the founder, Mia Siepel, had coffee with her sister one cold day. Her sister was trying to nurse her newborn baby and her waist was bare in the cold wind. From there, Mia decided that moms should be able to nurse in style and comfort. Later, she became pregnant with her first child and like me, she didn't want to look frumpy. With her huge collection, I can look amazing throughout pregnancy and nursing.
Boob sent me three items. My absolute favorite is the BOOB Tie-band Tunic. I asked for it in the Dark Fuchsia so that it would be different from my normal black.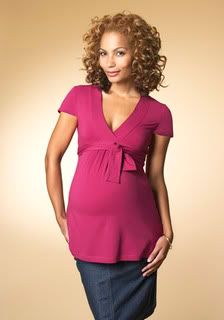 With this pregnancy, my hips have gotten larger than they did with my son. The Tunic fits me perfectly without adding extra emphasis on my growing hips. It is snug around my belly, but gives my hips room. My chest is also a little larger now so I do have to wear a tank underneath, but I think I still look great in it!
This is my favorite maternity shirt. I've had it almost a month and have worn it at least 8 times. At first I could wear it with my leggings too, but as I continue to grow, it's not quite long enough. I usually wear it with capris and low heels. I get at least one compliment from strangers when I wear it.
Boob also sent me the Riviera Caftan in Barque.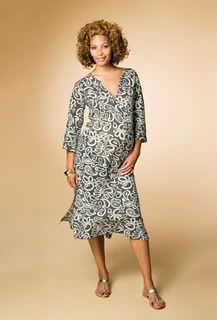 I really thought that this would be my favorite. I received it in a medium, which is normally what I wear in maternity clothes. It was huge on me! It looks so fitted on the model, but it was a sack on me and doesn't tie in the back so I can't make it look smaller. I wish that I would have asked for a small. I'm 26 weeks pregnant now, so maybe in the next month I'll be larger and it will fit better.
It is really thin, so it does require some sort of slip or something underneath it which is fine with me. When I'm pregnant I get HOT! I don't want to be wearing thick clothes that make me miserable. This dress would keep you cool.
The Flattering V in Poppy was the last item I got.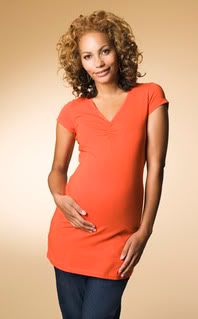 I love the color of this shirt. I've only worn it once because of those wide hips I was telling you about. It fits snugly, which would be fine if my hips weren't so huge. I should have asked for a large in this shirt. If fits my curves amazingly well, but I'm too self conscious. I would suggest getting this shirt in a size larger than you would normally wear if you're as self conscious as I am. LOL-I'm completely jealous of that model and her tiny hips! I still wear this shirt, but I don't look as good as she does in it.
I am excited to wear BOOB nursing items once the baby gets here! If you weren't going to breastfeed, looking at these shirts will make you want to. Not only do they look fantastic, but they will keep you covered up. All of their nursing tops and dresses have a double layer fabric design that allows you to be discreet.
Boob carries tons of amazingly adorable shirts, pants, skirts, and dresses. You really need to go to their website and check out everything that they have to offer!
Buy It!
You can purchase Boob apparel at places such as
Due Maternity
and
Pickles and Ice Cream
.
WIN IT!!
Boob is giving one of my readers a Tie Band Tunic AND a Flattering V!
To enter, visit
Boob
and tell me another item that you would love to have!
This is required and must be done before the extra entries count!EXTRA ENTRIES!
You can do any of these things for an extra entry. Make sure to leave a separate comment for EACH thing you do.
1- For TWO extra entries, blog about this giveaway. Link it back to my blog and
Boob
.
2- Follow my blog. Go over to my right sidebar and click on Follow This Blog! Current followers count too! Leave me a comment letting me know that you do!
3- For TWO extra entries, subscribe to my blog via email.
4- Follow me on twitter AND tweet about this giveaway.
You can copy and paste: Win two maternity shirts from BOOB Maternity @twoofakind http://tinyurl.com/dmglpe Open to US And Canada!
5- Enter the
Farmstead Organics Giveaway
.
6- Grab my green Two Of A Kind button and place it on your blog.
Contest ends at 11:59pm EST on May 20th when I will draw a winner at random. PLEASE leave your email address if it is not visible on your profile. I will notify the winner and they will have 36 hours to respond!
Open to US And Canada!