I take hundreds of pictures almost every week. I hate when I take a picture if I forgot to do something like change the ISO. The lighting with those pictures is always wrong. Some of those would be amazing if the lighting was different.
With
Aurora
, I can now use those pictures. Aurora is a desktop software for PCs(a Mac version is coming soon) that mimics the ability of the human eye to process images. Within minutes, you can have the dark picture that you took look more like what you saw in real life.
This is a side by side comparison from Aurora demonstrating what is possible with just a few clicks of your mouse.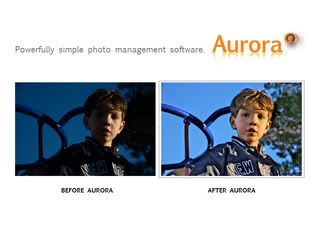 This is what your screen will look like. The original picture will be at the bottom center and then you have options at the top to make your photo lighter or darker.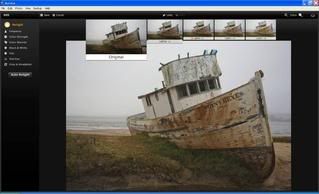 Once you've decided which lighting looks the best, you just hit save. It does NOT overwrite your original picture. It uses your same file name with _au at the end. I used an editing software once that would save over my original picture if I didn't change the name. Aurora does it for you.
Aurora also offers an online backup storage that will keep 20 GB of photos safe for you online. This service is only $4.95 and your pictures will be kept safely in case anything were to happen. If you don't have a safe place for your priceless photos, this is a great deal!
I would recommend Aurora to anyone that takes pictures! All I have to do is bring it up and my pictures are on the screen ready to edit. Like I said, I do have tens of thousands of pictures so it does sometimes take a minute to bring up all of the pictures in a file, but it is only a minute.
Here is an example with one of my pictures. This was at my son's 1st birthday and this picture was way too dark. You can see for yourself the difference that Aurora makes!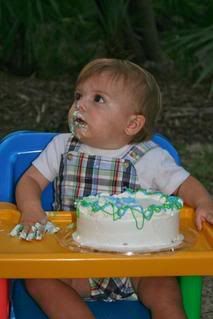 You can also change your photo to black and white, change the color strength, fix red eye, change the crispness, and the color warmth. With Aurora, you can take those pictures that you thought you'd never use and edit them to have forever!
Buy It!
Aurora
is available for download on PCs(a Mac version is coming soon) for $19.95!
WIN IT!!
Aurora is giving TEN of my readers a download of Aurora.
To enter, visit
Aurora
and tell me anything that you saw or learned!
This is required and must be done before the extra entries count!EXTRA ENTRIES!
You can do any of these things for an extra entry. Make sure to leave a separate comment for EACH thing you do.
1- For TWO extra entries, blog about this giveaway. Link it back to my blog and
Aurora
.
2- Follow my blog. Go over to my right sidebar and click on Follow This Blog! Current followers count too! Leave me a comment letting me know that you do!
3- For TWO extra entries, subscribe to my blog via email.
4- Follow me on twitter AND tweet about this giveaway.
You can copy and paste: Aurora Photo Edit Giveway-TEN WINNERS @twoofakind http://tinyurl.com/csb4bt
5- Enter the
Boob Maternity Giveaway
.
6- Favorite my blog on Technorati.
7- Follow Aurora on
Twitter
.
Contest ends at 11:59pm EST on May 20th when I will draw a winner at random. PLEASE leave your email address if it is not visible on your profile. I will notify the winner and they will have 36 hours to respond!
Open to Everyone since it is a download!