I'm rolling right along with this whole cloth diaper adventure. I am so glad that I decided to take the plunge and try it out. I really like it and its not near as hard or time consuming as I thought it would be!
AppleCheeks
recently told me about their 2 size diapers. They we super sweet and sent a St. Lucia colored one for my son and a Raspberry Sorbet one for this baby that will be here soon! Size 1 diapers fit from 7-20 pounds and size 2 fits from 18-40 pounds.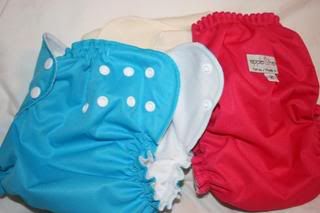 First off, I love that AppleCheeks has a wealth of knowledge available for me. Again, I'm a "newbie" at cloth diapering and I still have the simplest of questions. If you click
here
, you have downloadable washing instructions, video tutorials, and a contact form at your fingertips. They even sent a sheet with pictures on how to put the diaper on correctly. Of course, it's really easy, but it helps if you're a newbie like me! HAHA, I even have this picture where Evan is reading up and making sure I was doing it correctly!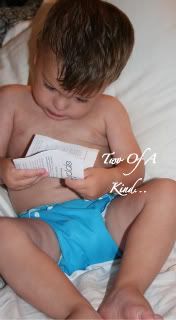 AppleCheeks diapers
and accessories are all designed and manufactured in Montreal, Quebec, Canada. The diapers are designed to trimly fit a large range of babies and stand up unbelievably well to washing. You also have several options on whether you'd like to use the hemp or bamboo inserts inside the pocket of the cover or on top of the pocket so that you could use the cover again before washing. I tried both ways, but I'm a big fan of putting it inside the micro fleece lining to wick moisture away from my son's skin.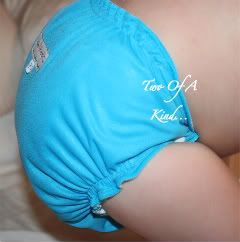 I also think that the snaps are fantastic. My son loves to take off his diapers, but has a harder time with the snaps. I also love that you don't have to line the snaps up perfectly. There are two rows so you can make the waist tighter than the legs if your baby has chunky legs. Evan has evened out, but babies have those chunky legs before they start to walk.
This is the first diaper I've tried that has the elastic on the back and front. It really makes it where the diaper fits more snug and aids in defending against those awful blowouts!
If you're thinking about making the switch to cloth diapers, I have a little more for you to think about. If your baby wears diapers until they are 30 months old, they will go through about 5400 disposable diapers that will cost $1500-$2500. If you use cloth, you will save about $2000 and then can use them later with your other children. It also takes 300 lbs of wood to make those same 5400 disposable diapers. Think of all those trees you'll be saving!
Buy It!
You can purchase AppleCheeks diapers in 10 great colors at
these locations
for about $18.
WIN IT!!!
Applecheeks is giving a cloth diaper to one of my readers!
To enter, visit
AppleCheeks
and tell me what color you'd choose!
This is required and must be done before the extra entries count!EXTRA ENTRIES!
You can do any of these things for an extra entry. Make sure to leave a separate comment for EACH thing you do.
1- Follow me on twitter,
HERE
AND tweet about this giveaway. You can copy and paste:
WIN an AppleCheek Cloth Diaper @twoofakind http://tinyurl.com/rbkn43
Open to everyone worldwide!
2- Follow AppleCheeks on twitter,
HERE
.
3- For TWO extra entries, blog about this giveaway and link it back to this post and
AppleCheeks
.
4- Become a fan of AppleCheeks on Facebook,
HERE
.
5- Subscribe to my blog via email.
6- Follow my blog.
7- Place my green Two Of A Kind, Working On A Full House button on your blog.
Contest ends at 11:59pm EST on June 8th when I will draw a winner at random. PLEASE leave your email address if it is not visible on your profile. I will notify the winner will have 36 hours to respond!
Open to EVERYONE worldwide!!! Anyone can enter!