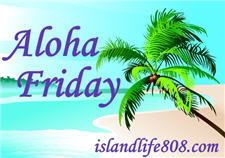 It's Aloha Friday over at
An Island Life
! Answer my question and make sure you post one on your blog! After that, go relax because today is Friday!!
My question for this week is:
How many piercings do you have/had you had?
My mom got my ears pierced when I was 6 months old. At 16, I got a second piercing in each ear. At 18, I was dumb and had my belly button pierced-just a few years later I took it out when we decided we were going to start trying to have our first! Now, I have 2 in each ear and I'm not so sure if my belly button is closed or not!