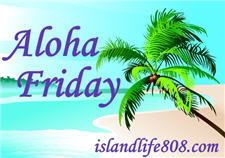 It's Aloha Friday over at
An Island Life
! Answer my question and make sure you post one on your blog! After that, go relax because today is Friday!!
My question for this week is:
Do you have a "typical" weekend? What are your weekends like in the spring/summer?
We seem to do the same thing every weekend when the weather is warm. On Fridays I go to my mom's as soon as my little man gets up from his nap and we usually go out and pick up a few things. Hubby gets there when he gets off work and we get dinner and just relax at their house.
Saturdays we get up and do a few things done around the house like cut the grass and then head over to my mom's to relax around the pool. We usually eat dinner over there too. Sometimes we'll go out to dinner or run some errands.
Sundays we go to church and then are pretty much lazy all day.