When I get a game that I enjoy playing, I find myself with a small addiction. One of my favorite games has several variations. Its the one where you have to line up 2-3 objects that are the same and then they disappear and then you find 2-3 more.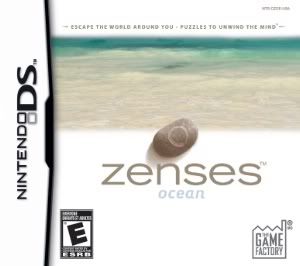 A variation of my favorite game is on the Nintendo DS game,
Zenses Ocean
. Zenses Ocean is a game that is geared towards women 25+.
This game has taken 6 favorite puzzles and other brain training games and put them all together in a relaxing atmosphere. Everything from the music to the look makes you feel completely relaxed. Who doesn't love to relax at the beach? You'll never get tired of playing this game with the highly addicting 50+ levels that are available.
This is my favorite game that I was telling you about. Look how relaxing this scene looks!
While being soothed by the waves and ocean breeze, I was also boosting my brain power by playing these games. All 6 games are completely addicting and it is hard for me to put down the Nintendo DS. With being pregnant and having to deal with my toddler, escaping into this game is just what the doctor ordered! I actually swiped my sister's Nintendo DS and haven't given it back yet! I guess since I've found this game that I'm completely in love with, I'll have to go buy my own.
Buy It!
Zenses Ocean is out now and you can purchase it anywhere that you can buy games.