I love to play games. The only problem is that I get so addicted to them. I like to think that they're keeping my mind sharp instead of just taking up the time that I SHOULD be cleaning something.
The game that I've just become addicted to is
World Championship Games-A Track & Field Event
. The Game Factory sent me this game a few weeks ago and I can't put it down. Between this and
Zenses Ocean
, I can't seem to get anything done!
I can be insanely competitive and strive to come in first. I try to keep it under control, but I especially love beating my husband's scores. This game has become our new competition. I do have the upper hand since he works and I can practice while he's at work, but I don't tell him that!
With World Championship Games, we can create or own athletes and compete in 14 different events. You can even use Multi-card and single console "pass around" modes so that 2-4 players can join in.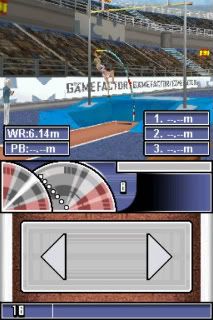 This game gets even more exciting because you will want to challenge yourself to beat the world records and collect medals that unlock even more events and bonus items! Not only will you want to beat other people that you play with, but you'll want to beat your own scores to unlock new events.
The events are so realistic. You control your athlete to make all the moves that you want them to. This is definitely a game that you will want to play over and over.
Its rated E for Everyone and is targeted for teens and young adults. I think that most adults would really enjoy this game as well. I haven't given my dad a chance to play(I have to get REALLY good first), but I think that he would really enjoy this game.
WIN IT!
The Game Factory is giving a World Championship Games for Nintendo DS to one of my readers.
To enter, visit
The Game Factory
and tell me which of the different events you think you would have your athlete compete in the most!
This is required for an entry into the giveaway and must be done before the extra entries count.EXTRA ENTRIES!
You can do any of these things for an extra entry. Be sure to leave a separate comment for EACH thing you do.
1- For TWO extra entries, Subscribe to my blog via email. Type in your email address over to the left and hit submit! Don't forget to activate your account.
2- Follow my blog. Go over to my right sidebar and click on Follow This Blog! Current followers count too! Leave me a comment letting me know that you do!
3- Put my green Two Of A Kind button on your blog.
4- For TWO extra entries, Blog about this giveaway.
5- Follow me on twitter.
6-
You can tweet once per day for an extra entry EVERY DAY! Just tweet about my giveaway and come back here and leave me the link to your tweet.
You can copy and paste: World Championship Nintendo DS Game @twoofakind http://tinyurl.com/c9jkoy
7- Favorite my blog on Technorati. Go click on the green and white Technorati button on my right sidebar.
Contest ends at 11:59pm EST on April 29th when I will draw a winner at random. PLEASE leave your email address if it is not visible on your profile. I will notify the winner and they will have 36 hours to respond before I will choose a new winner!
Open to US ONLY!