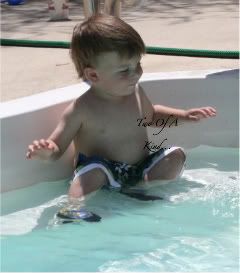 This weekend we were laying out by the pool and Evan wanted to get in SO bad, so we let him stomp around on the step. It wasn't TOO cold, but still chilly enough. He then plopped down and started splashing around.
This picture isn't the best, but I was busy shooting video and my mom took the pictures of him sitting in the pool. This is his first picture in the pool this summer!
The water will be warmer this weekend so I'll let him play in it again! Last year we were in the pool by the end of March.
For more A Thousand Words Thursday, check out
Cheaper Than Therapy
!