I've given up on the decorative hand soap pumps for my bathrooms. I always make a mess when I try and transfer the soap over and even broke one of them. With my toddler's new addiction to washing his hands, we go through a lot of soap and it is easier just to use the unattractive pump that came with the soap.
With the new
Softsoap Ensembles Hand Soap
, I can still have a decorative pump.

With four different styles to choose from, you can decide which design matches your decor. Buy the starter pump that comes with a soap base, then keep the pump and get a replacement disposable base when you need a new one! You can add a new look to any room for just pennies!
I am so excited about these. I don't have to use the ugly soap containers with the logo written all over it, and I won't have to deal with the hassle of pouring soap into decorative pumps.
I was sent a reusable pump and two replacement disposable bases from Softsoap. I took the pump and base out of the display wrapping and left one in so you could keep an eye out for it at your store.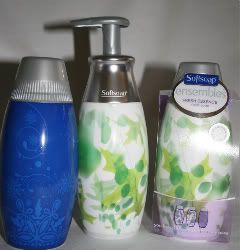 It is filled with the moisturizing liquid hand soap and smells amazing! I don't have to worry about my son's new soap addiction drying out his hands with this soap. Since switching to these, he won't get a chance to break my expensive decorative soap pumps either!
Now all I have to do is buy a replacement base filled with soap when I run out. I am buying a pump for all three of my bathrooms and the kitchen. With new designs being added each year, I can continue to change the look in my bathrooms!
Buy It!
You can purchase the Softsoap Ensembles at any drug or grocery store. The starter pump is $5.99 and the replacement disposable base is $2.99.