I have gone through no less than four diaper bags with my son. They're either too big, too small, or there just isn't enough organization. I can't tell you how many times I've had to search for my wallet or a diaper that ends up being squished into a tiny ball somewhere in the bottom corner of the bag.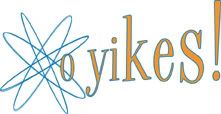 I thought I'd never find a bag that would meet my needs, but
O Yikes!
introduced me to their bags. They sent me the
24.7 Messenger Bag
in Blueberry Keylime.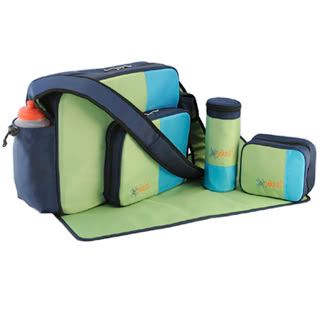 O Yikes! was created by a parent who realized that all diaper bags have some sort of shortcoming. They designed their bags with active people in mind. This company wanted a durable bag with tons of organizational options that also looks stylish.
The 24.7 Messenger Bag includes:
-two large main compartments and six internal pockets
-brushed aluminum key ring
-long shoulder strap with non-slip padding
-exterior bottle holder with a drawstring closure
-external accessory holder
-exterior pop out zipped space
-large exterior pocket with magnetic closure
-Measurements:
Back compartment 12"h x 15"w x 4"d
Front compartment 8"h x 10"w x 2"d
Internal measurement 11.75"h x 14.75"w x 3.75"d
-
insulated cylinder case
-
accessory case
-
changing pad
Did you see that list? You can also click
here
for pictures of all of those features. They thought of EVERYTHING when it came to this bag. The bag is small enough that I can use it daily, but it also has so many compartments that I can use it for weekend trips!
The Messenger bag is available in 4 fantastic colors that includes Frosted Titanium so even the "manliest" of men will be proud to carry it. I'm using it for a diaper bag for now, but this bag can be used for so much more.
This would make an amazing carry on bag for traveling. With so many compartments and pockets, you could fit everything that you need. The possibilities are endless. If I still worked, I would carry this bag with me. I could pack everything from my lunch to an extra pair of shoes in there. They even offer a 9.2.5 instead of the 24.7 that includes a laptop sleeve that matches the bag!
Now that I'm going to have a baby and a toddler, I need all of this extra organizational space. This bag can carry clothes, food, diapers, and toys for both children. I even get my own pockets for wallets and phones!
I love this hidden pouch. With my other diaper bags, I miss pretty much every call because I can't find my phone. Now, all I have to do is flip open the flap and it is in the top pocket.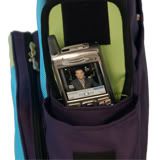 Whoever thought about this key ring is a genius! I am always having to put my diaper bag on the hood of my car and taking everything out to find my keys. It takes seconds to get to my keys with this ring at the top!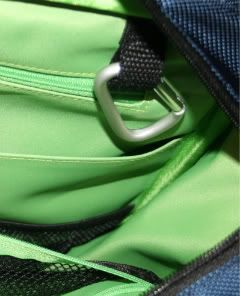 What about those balled up diapers I was telling you about? Not anymore! This zipped outside compartment contains a mesh pocket for diaper rash ointment, the changing pad that matches the bag, and enough room for me to put 6(or more) diapers.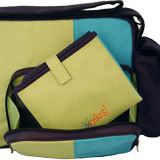 I will never own another diaper bag. I'm even thinking about getting the
Slingback bag
to have when the kids get older and I can use a smaller bag. Later, I could use both bags for travel cases or gym bags!
Buy It!
You can purchase the
24.7 Messenger bag
that includes the three accessories for $130.
WIN IT!
O Yikes! is giving an accessory of choice AND a onesie to one of my readers.
My readers get a discount of 25% off of their order if they enter the code "Two25"!!
To enter, visit
O Yikes!
and tell me which accessory(the cylinder case, accessory case, or changing pad)that you would choose if you won AND which color combination you would want!
This is required for an entry into the giveaway and must be done before the extra entries count.EXTRA ENTRIES!
You can do any of these things for an extra entry. Be sure to leave a separate comment for EACH thing you do.
1- For TWO extra entries, Subscribe to my blog via email. Type in your email address over to the left and hit submit! Don't forget to activate your account.
2- Follow my blog. Go over to my right sidebar and click on Follow This Blog! Current followers count too! Leave me a comment letting me know that you do!
3- Put my Mother's Day Event button on your blog.
4- For TWO extra entries, Blog about this giveaway and link it back to me AND
O Yikes!
5- Follow me on twitter.
6-
You can tweet once per day for an extra entry EVERY DAY! Just tweet about my giveaway and come back here and leave me the link.
To make it easier just Copy and Paste: RT O Yikes Giveaway @twoofakind http://tinyurl.com/clskv5
7- For FIVE extra entries, purchase any item from
O Yikes!
before the end of this giveaway!
Get a discount of 25% off your order when you enter the code "Two25"!!
Contest ends at 11:59pm EST on April 26th when I will draw a winner at random. PLEASE leave your email address if it is not visible on your profile. I will notify the winner and they will have 36 hours to respond before I will choose a new winner!
Open to US ONLY!