In case you haven't heard, my Mother's Day Extravaganza starts TOMORROW(April 27th)!!!! I am packing over 20 giveaways into 2 weeks so there will be at LEAST one per day(usually more). Make sure to check back OFTEN.
I am going to keep a running list of Mother's Day giveaways on this post and on my sidebar. At any time you can view all of my giveaway posts by clicking on the giveaway button under my header.
If you want extra entries, grab the Mother's Day Extravaganza button and put it on your sidebar. Check each giveaway for the details on extra entries. Blogging about this event WILL get you extra entries into the giveaways that begin tomorrow!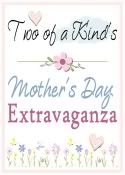 Mother's Day Extravaganza Giveaways:
-
Vado Pocket Video Camera
(ends 5/11)
-
Photofiddle
(ends 5/11)
-
Hand Stamped Mommy Necklace
(ends 5/11)
-
Scentsy Giveaway
(ends 5/11)
-
Gardening Gift Basket
(ends 5/11)
-
Jellybean Apparel Maternity Shirt
(ends 5/11)
-
Diaper Bag
(ends 5/13)
-
Apron from Jillie Willie
(ends 5/13)
-
Steamboy T1 Steam Floor Mop
(ends 5/13)
-
$25 Gift Card to Build A Bear
(ends 5/15)
-
Pendant Of Choice-TWO WINNERS
(ends 5/18)
-
Mother's Little Ones Bracelet
(ends 5/18)
-
Organic Trio From Farmstead Organics
(ends 5/18)
-
Two Boob Maternity Shirts
(ends 5/20)
-
Pair Of Earrings
(ends 5/20)